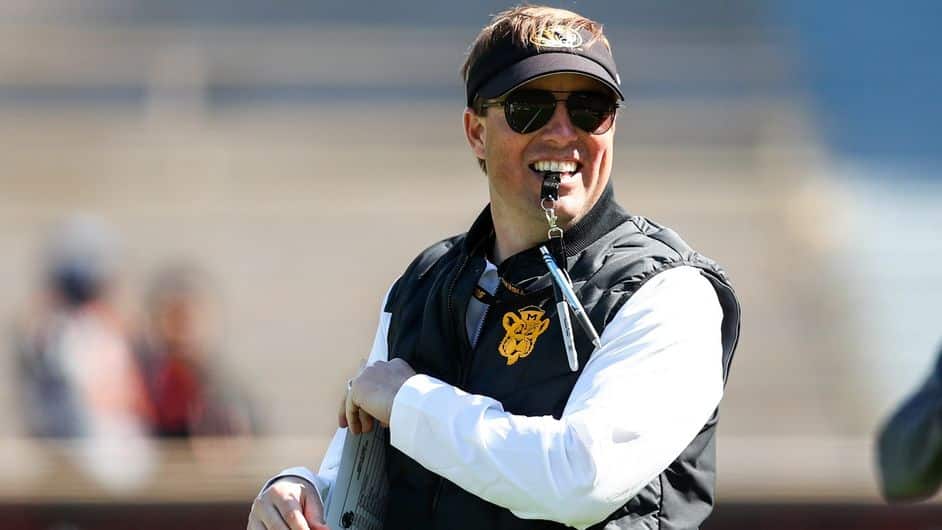 COLUMBIA, Mo. — The University of Missouri Board of Curators unanimously approved a contract extension Saturday for football head coach Eli Drinkwitz.
Drinkwitz, whose initial contract ran through 2025, will now be around until the 2027 season. Drinkwitz came to Columbia in 2019. He is currently in his third season of the contract.
"My family and I want to thank the Board of Curators, President Choi, and AD Desiree Reed-Francois for their faith in me as a coach and leader," Drinkwitz said. "You can't do this alone, and our players, coaches, and staff have worked their tails off and stuck with the process as we've built this program."
"We feel strongly about our trajectory and are proud to represent our state's flagship institution," Drinkwitz adds. "We are grateful for the investment in our program from the administration and excited about the future of Mizzou Football!"
Officials praise the coach's accomplishments to date
"Like the University and Missouri Athletics, Mizzou Football is on an upward trajectory. Coach Drinkwitz is a key part of those efforts," said Darryl Chatman, UM Board of Curators chairman. "As a board, we continue to support setting higher expectations and making progress in all that we do as a university. That applies to research, academics, and athletics. We look forward to watching Coach Drinkwitz build Mizzou Football into a championship program."
"Coach Drinkwitz and his staff have created great momentum in our football program," Mizzou President Mun Choi said. "You can feel the excitement and you see it in the fans as they have turned out in great numbers at Faurot Field. Coach Drinkwitz's program is a key part of the results-driven, championship culture that AD Reed-Francois is building to help support our student-athletes. Like so many of our fans, I am excited to see what the future holds for Mizzou Football."
"We are appreciative of the support from our Board of Curators and President as we continue to build a championship-level program," Reed-Francois said. "Our football team is on the right trajectory. We are seeing results in recruiting and on the field. Coach Drinkwitz is a dynamic leader who brings people together. We believe in our football staff's combined commitment to excellence in the classroom and in the community. We are looking forward to him continuing to lead our program into the future."
Accomplishments for Drinkwitz' Mizzou football program
Drinkwitz led the Tigers to bowl appearances in his first two seasons. The feat matches former coach Warren Powers as the only two Mizzou head coaches to make that accomplishment. In contrast, Powers won more games in his first two seasons in 1978-79 with 15. Drinkwitz won 11 in 2019-21.
Drinkwitz has won 71% of his games at home, achieving the best winning percentage at home since Dan Devine (1958-70, 73.1%).
Furthermore, his staff has inked Mizzou's highest-ranked classes ever. The Tigers were ranked No. 19 in 2022 and No. 20 in 2021. The nation's No. 1 wide receiver, Luther Burden III, was a member of the 2022 signing group.
Academically, the 2.92 team grade point average in Spring 2022 was football's highest in eighteen years. This figure would exclude the pass/fail period for the spring semester of 2020.
---
For more sports news, follow Jake Leonard on Twitter @JakeLeonardJRN and Heartland Newsfeed @HLNF_Bulletin on Twitter.
Additionally, you can follow Heartland Newsfeed on Facebook and Reddit among other platforms. You can now follow our news updates on Telegram, Flote, and MeWe.
Support independent journalism. Become a patron on Patreon for as little as $1 a month. There are other donor options as well.
Get the latest news updates on our radio network via Spreaker, TuneIn, and other platforms.
---