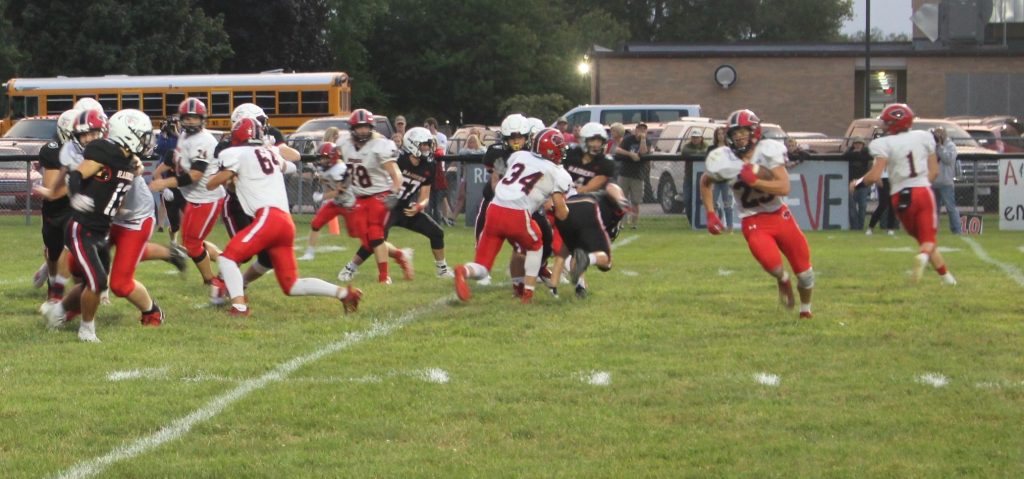 MOWEAQUA — Fresh off their Week 1 road wins, the Nokomis Redskins (1-0) and Central A&M (1-0) faced off Friday night, September 3 at Mark Ramsey Field in Moweaqua.
The Redskins entered this non-conference game winning six straight in the spring season and winning their seventh straight game 54-0 on the road against Sullivan/Okaw Valley.
The Raiders enter the game with a three-game winning streak, two from the spring session, and added one last week, blowing out LeRoy on the road 41-6.
Unfortunately, the Redskins making it eight straight wins just wasn't meant to be.
Central A&M found themselves ahead 14-0 as a result of a 33-yard rush by Jacob Paradee and a four-yard TD pass to Cody Sloan. Jarrett Robertson was one-for-two on extra-point kicks, as the second attempt was blocked.
Nokomis' Jacob Watson made a three-yard run to the endzone to put the Redskins on the board.
The Raiders would then score 18 unanswered points, courtesy of two Paradee rushes for five yards. Brody Barnes received a pass for a two-point conversion. Robertson would make an extra-point kick on the next scoring drive. He would also make a 30-yard field goal.
That unanswered run led to a 32-6 score entering halftime.
The Raiders would add 13 more points on the night following runs by Paradee and Will Thompson. Robertson made only one of the extra-point kicks.
Brenton Lyons made a ten-yard run late in the game for Nokomis, followed by a two-point conversion via a run by Craig Bertolino.
Unfortunately, that wasn't enough to secure the win, as the Redskins break their winning streak 45-14.
Central A&M stats
Paradee led the Raiders with 129 yards rushing on 16 carries. He was also 10-for-14 in passing for 145 yards, scoring five touchdowns between rushing and passing.
Barnes racked up 122 yards in 15 attempts and received four passes for 83 yards.
Thompson made nine carries for 49 yards. Meanwhile, Caleb Woods, Carter Thomas, Sloan, and Hayden Sams combined for seven carries for 75 yards.
The defensive corps of Paradee, Thompson, and Sloan combined for 23 of 44 tackles, three tackles for a loss, and one interception.
Nokomis stats
Landon Engelman led Nokomis with 106 yards on 11 carries. Matt Hill added 100 yards on ten carries.
Not much more in stats were made available as of publication.
Next week
Central A&M kicks off Central Illinois conference play on the road in Decatur. The Raiders will partake in one of the most anticipated matchups of the 2021 season against the Bulldogs of St. Teresa.
Nokomis will be hosting three consecutive home games, as they take on East Alton-Wood River in non-conference action. Next Friday night will be Military Honor Night.

---