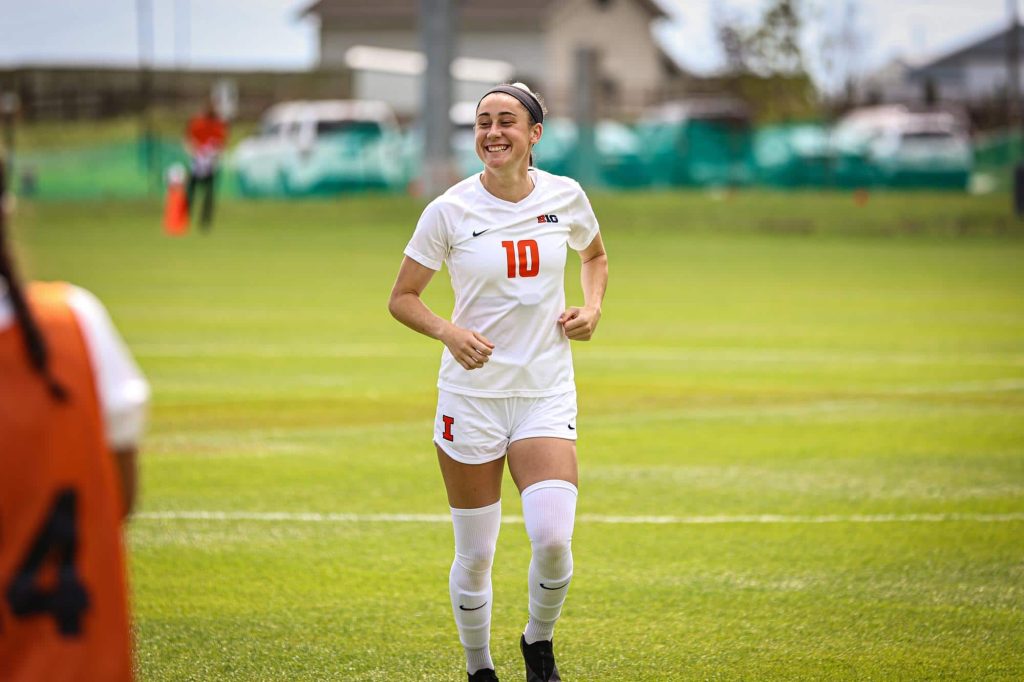 CHAMPAIGN
— The Fighting Illini women's soccer team fell at home to #2 North Carolina in the season home opener 5-1. The opener was also the grand opening of Demirjian Park. An early attempt for North Carolina via Rachel Jones 41 seconds into the match was blocked by goalie Mackenzie Schuler. Redshirt senior Hope Breslin scored the lone Illini goal at 3:13, marking her fifth of the season. The unassisted goal came as Breslin stole the pass from UNC goalkeeper Claudia Dickey intended for the midfield. She lifted a shot above Dickey and into the net. 10 seconds later, a shot by Jones was blocked. Almost a minute later, at 4:21, Emily Murphy's opportunity would tie the game at one apiece. The unassisted goal marks the second goal of the season for Murphy. Most of the first half would elapse before the Tar Heels scored again at 27:43. Maycee Bell delivered the goal with an assist from Avery Patterson. This marks Bell's first goal of the season. UNC's final offensive tally of the first half came at 35:14, with Rachael Dorwart netting her first of the season. Paige Tolentino was credited with the assist. The Tar Heels continued to pile on two additional goals in the second half to solidify their victory. Both goals came from Emily Colton via assistance from Murphy.
Illini/UNC post-game stats
The squad falls to 2-1 on the season and 0-4 career against North Carolina, who advances to 3-0.
SHOTS
: UNC 18, Illinois 5
CORNERS
: UNC 9, Illinois 1
SAVES
: Illinois 5, UNC 1
FOULS
: Illinois 12, UNC 7
NEXT
: Illini hosts Butler for Senior Day. Sunday, Aug. 29, 1 p.m., Big Ten Network/B1G+
---
For more

 sports

 

news, follow Jake Leonard on Twitter @JakeLeonardWPMD

 

and Heartland Newsfeed @HLNF_Bulletin on Twitter.
Additionally, you can follow Heartland Newsfeed on Facebook and Reddit among other platforms. You can now follow our news updates on Telegram, Flote, and MeWe.
Support independent journalism. Become a patron on Patreon for

 

as little as $1 a month. There are other

 

donor options

 

as well.