Crypto News, Analysis, Forecasts, ICOs and Events for the week ending 9/7/2018
Crypto News & Analysis
It has been reported that the the owners of the Coinbase Cryptocurrency Exchange may be involved in talks with asset manager, BlackRock, regarding the formation of an exchange traded fund. BlackRock manages more than US $6 trillion in assets, and can definitely be considered a suitable partner for any viable financial enterprise.
Coinbase has chosen to take up talks with BlackRock because of their pioneering efforts in creating ETFs and their successful experience in maintaining ETFs. BlackRock's CEO, Larry Fink has publicly denied any interest in being a part of a digital asset fund. Adding to the statement that Bitcoin facilitates an 'index for money laundering.'
Nonetheless Coinbase has already launched a  successful crypto fund for accredited investors and aspires to create a fund for retail investors. Many analysts believe that the ETF is the next step in the progression of the cryptocurrency market. The alliances are being pursued and the legislation is being forged. Who will wind up being united when the veil is lifted?
Blockchain technology is in action within the country that leads the ASEAN community in the implementation of renewable energy sources. Bangkok, Thailand will allow its residents to be introduced to a peer to peer platform that will allow its users to buy and sell electricity between themselves. The pilot platform will be powered by blockchain technology. The project will be one of the world's largest peer to peer energy trading platforms.
David Martin, who is one of the managing directors of the Australian firm Power Ledger, a partner in the project, has been reported by Reuters, as saying (that),
"By enabling trade in renewable energy, the community meets its own energy demands, leading to lower bills for buyers, better prices for sellers, and a smaller carbon footprint for all,"

He added,

"It will encourage more consumers to make the switch to renewable energy, as the cost can be offset by selling excess energy to neighbors."
The pilot project will begin in an upscale market district on Sukhumvit Road in Bangkok. And the initial participants will be a school, a mall, an apartment complex, and a dental hospital. There will be 635 kW of electricity generated that will be available for trading. Surpluses of electricity can be sold to members within the group or to the local energy storage grid.
Forex News & Analysis
The United States Dollar /Bitcoin  (USD/BTC) pairing has taken everyone on a rollercoaster ride this week. The USD appears to have won the battle, gaining on Bitcoin at the end of the week. The continued threats of trade wars and higher tariffs from America's President to sell Americans goods from abroad has apparently strengthened the USD.
The USD index (.DXY) compares the USD to 6 globally dominant currencies. The USD lost ground towards the end of the week. The .DXY index recorded a value of 94.99 down 0.04% from the previous trading day. The EUR ended the week marginally lower against the USD, exchanging at 1.1625 / 1, down $0.0002. While the Great British Pound(GBP) maintained a slim advantage over the dollar at the close of the week. The GBP was standing firm at $1.2932  gaining $0.0002 translating into a 0.02% gain against the USD.
Situations around the world like Turkey's Lira debacle, Venezuela's economic woes, President Trump's threat to inflict tariffs on $200 billion worth of goods from China, and last but not least Canada's firm stance of opposition to the proposed NAFTA treaty, have made the dollar a safe haven for news-weary investors. Interestingly enough, 2018 has seen the USD up in value against every major world currency except the Mexican Peso. If you remember The Mexican Peso was the currency that suffered greatly when President Trump was elected in 2016.
Many Analysts feel the dollar will start to lose value against these same currencies towards the end of the year. They expect the USD to repeat its cycle of decline towards the end of the year, as it did in 2017.
"Cyclical forces will start to work against the dollar: relative economic momentum, relative monetary policy expectations and relative political uncertainty will start to exhibit similar dynamics that weighed on the dollar in the second half of 2017,"

says currency strategist at ING,Viraj Patel.
Will the greatest bull market of this decade finally come to an end? During the terms of President Trump's last two predecessors there was evidence of a cyclical downturn in the American markets during the year's last quarter. We will just have to wait and see if President Trump's leadership at the helm of America's financial strategy will impose a new path or return to the previous one. Another thing investors should keep in the back of their minds is the fact that after the cyclical downturns recorded during the Bush and Obama years, the American economy came back with a vengeance and recorded high levels of growth throughout many sectors.
Crypto Futures News & Analysis
Bitcoin took a nosedive as the week closed. Losing more than 5% of its market cap value from the beginning of the week.
Chart Courtesy of
Investing.com
&
Trading View
 prepared by
Tom Whitbread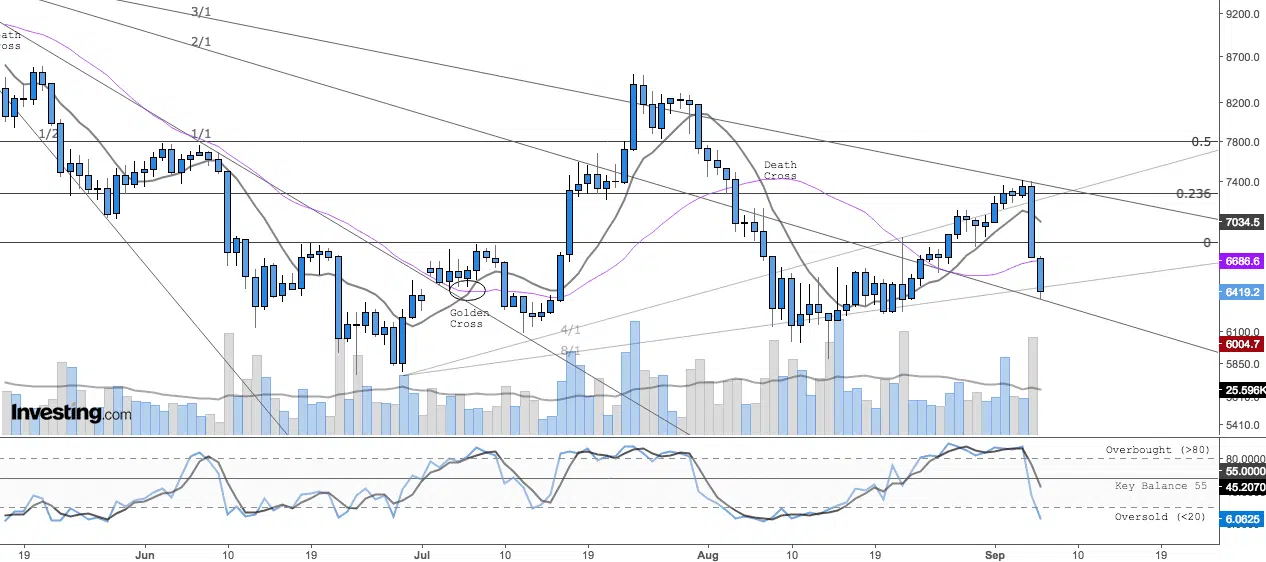 This dip in value will be another true test of the resistance levels Bitcoin has established through the course of this year. The fibonacci averages have been sustained. Bitcoin has consistently bounced from its lower level of resistance very near to USD $6,200 on average. The crypto then bounces back up again to levels near $8,000.
When you analyze the turbulence of Bitcoin. It becomes clear that there are two methods of trading styles that one has to choose from. Will you participate in Bitcoin for the long term or for the short term. Those that prefer the short term are weighing the averages that Bitcoin will conform to the pattern it has been establishing, and the possibility of a buy in opportunity presenting itself. If Bitcoin does its dance and moves above $7000 a great trade will be made by some.
There are so many rumors and there is evidence that Bitcoin could fly off to the moon at any moment. That's exactly what happened at the end of 2017. Many investors seeing Bitcoin heading towards $6,000 put on their buy hats. They execute their strategies and  jump in buying and holding onto their investment in Bitcoin hoping they see its price rise as high as the clouds in the sky.
What helps this fibonacci lower resistance level sustain itself is both long term investors and short term investors have helped Bitcoin maintain it. Long term players and short term players appear to like purchasing Bitcoin when it nears $6,000. It will be interesting to see if this pattern repeats itself again.
Unlike most commodities and financial instruments, the trading price of Bitcoin is driven by advancements in technology. Although lately it has also been driven by citizens of economically depressed nations looking for a way out. The cycles of Bitcoin are still a mystery that needs ongoing research. The chart above demonstrates a pattern being established in the trading levels of Bitcoin. Will that trading pattern stand up to it newest test. The whole world is watching. But there are some actively engaged and not sitting on the sidelines.
Crypto Stocks & Analysis
Walmart (WMT) has announced that they are planning to build an army of robots controlled by Artificial Intelligence (AI), and
blockchain technology
. What will that do for the company? How will that move affect the stock price? And how will this new type of employee affect Walmart's customers?
In the 21st century, the things we saw in cartoons like 'The Jetsons' and movies like 'Irobot' may soon be become reality. As an investor it's necessary to look beyond the sensational headlines and analyze what this addition to Walmart's staff will do for the company. It's common knowledge that an active company's greatest expense is its employees. Paid vacations, medical insurance, accident insurance and salaries are some of the largest expenses that attack every company's bottom line. Those same expenses turn potential profits into losses. They also appear on the minus side of a balance sheet, as a tribute to money that was not able to stay in the pockets of the owners of that business.
What happens when a major portion of that expense is eliminated? The company's ability to retain revenue has increased with the strength of Superman. This increase in net revenue won't be a fluke, it will happen every quarter, every year, and every decade. The absence of employee expenses has significant potential to fuel net revenue growth. That is exactly the direction that Walmart is headed in. Walmart and their army of robots are starting their journey down More Money Lane. The blockchain technology available today is a critical factor in the achievement of robot armies that can work 24 hours a day, never require a paid vacation, or time off for maternity leave.
Walmart isn't the only operation trying to automate and eliminate employee expenses. Reuters has reported that 56% of all the blockchain patents throughout the world in 2017 came from China.
Just to help our readers get a handle on how big the pot is at the poker table, and who is holding all the cards, here are some very interesting bits of information. 406 blockchain patents were filed in total for 2017. Alibaba (BABA) holds 10% of the patents filed from China. Of all the blockchain patents ever filed since the technology existed, BABA holds 90 of them, IBM, holds 89, Mastercard holds 80, and Bank of America holds 53. These players have not announced what they're building or how big it will be. Rest assured they are building something that will dominate the technological explosion that is coming our way. If Walmart can build an army of robots, what could be coming from Apple (AAPL) and (AMZN) with their trillion US Dollar market capitalization values. The 21st Money Team has these companies on our watch list and will keep you informed.
This week's Biggest Winners in Cryptocurrencies
1) +194.22% BitcoinDark (BTCD) Started the week at $15.74 Ended the week at $46.31
2) +65.08% Bitcoin Gold (BTG) Started the week at $1.26 Ended the week at $2.08
3) +55.71% Cosmo Coin (COSM) Started the week at $0.0289 Ended the week at $0.0450
4) +55.10% Endor Protocol Token (EDR2) Started the week at $0.0392 Ended the week at $0. 0608
5) +50.40% HoloToken (HOT) Started the week at $0.00077222 Ended the week at $0. 00116140
6) +39.77%  Dogecoin (DOGE) Started The Week At $0.00368548 Ended The week at $0.00515121
7) +20.65% Nexty (NTY) Started the week at $0.00024673 Ended the week at $0.00029769
8) +15.18% Raiden Network (RDN) Started the Week at $0.494 Ended the week at $0.569
9) +15.09% BurstCoin (BURST) Started the week at $0.00894983 Ended the week at $0.0103
10) +7.86% Bitcoin Interest (BCI) Started the week at $1.40 Ended the week at $1.51
11) +7.26% Enjin Coin (ENJ) Started the week at $0.0427 Ended the week at $0.0458
12) +6.64% ReddCoin (RDD) Started the week at $0. 00308326 Ended the week at $0.00328801
13) +5.65% Arcblock (ABT) Started the week at $0.230 Ended the week at $0.243
14) +5.06% Monaco (MCO) Started the week at $4.35 Ended the week at $4.57
1
5) +4.03% Monero (XMR) Started the week at $108.44 Ended the week at $112.81
Crypto Chart of the Week
BitcoinDark (BTCD)                                                                                                        Chart courtesy of
Coinlib
BitcoinDark (BTCD) ranks 109th on the list of cryptos ordered according to their
market capitalization
. BTCD's current market cap is $59,680,000. BitcoinDark is a disrupting cryptocurrency platform that seeks to overcome many of the disadvantages inherent to the current world of finance. $15,000.00 worth of BTCD changed hands September 6 at $51.84.
******* Warning******* no news is available to justify the increase in value. .********** Please investigate thoroughly before investing. Some crypto markets have been manipulated by pump and dump schemes. Bitcoin Dark may be worth the value that it is trading at. Due diligence may be required before choosing to invest.
Heard Through the Grapevine
Upcoming ICOs and Events
Upcoming Events
September 7 – 9 –
ETH Berlin 2018 hackathon+workshops+talks
Berlin, Germany
September 7 – 11 –
2018 CoinsBank Mediterranean Blockchain Cruise
Taste Of Spain, France, Italy & Monaco
September 10 – 11 –
Blockchain 2018 Seattle Conference
Seattle, Washington USA
September 12 – 14 –
BlockWorld 2018 Conference
San Jose, California USA
September 12 – 13 –
Ethereum Classic Summit
Seoul, Korea
September 13 – 14 –
Token Fest
Boston, Massachusetts USA
September 14 –
BlockchainUA
Kiev, Ukraine
September 14 – 15 –
Global Litecoin Summit
San Francisco, California USA
September 14 – 16 –
The Bitcoin, Ethereum & Blockchain Superconference II
Dallas, Texas USA
September 15 –
Crypto Expo
Moscow, Russia
September 16 –
Discover Blockchain
Houston, Texas USA
September 18 – 20 –
Consensus Marina Bay Sands, Singapore
September 19 – 22 –
Nexus Conference
Scottsdale, Arizona USA
September 20 – 21 –
Blockchain in Oil and Gas Conference
, Houston, Texas USA
September 21 –
BitFest Conference
Amsterdam, Netherlands
September 26 –
Blockchain Live
London, England
October 1 – 2 –
SWELL Conference
San Francisco, California USA (Special Guest Speaker – Bill Clinton)
October 8 – 10 –
Blockchain East Summit And Trade Show
New York, USA
October 9 – 10 –
XBlockchain Summit
Bali, Indonesia
October 15 – 16 –
SolarTech Summit
Porto, Portugal
October 17 –
Financial Times Digital Health Summit
New York, New York USA
October 23 –
Blockchain & Bitcoin Conference Malta
Mellieha, Malta
October 30 – November 2 –
Devcon IV in Prague
Prague, Czech Republic
October 31 – November 2 –
World Crypto Con
Las Vegas, Nevada USA
November 1 – 2 –
Malta Blockchain Summit
St. Julian, Malta
November 28 – 29 –
Blockchain Expo North America 2018
Santa Clara, California
November 29 – 30 –
Monaco International Blockchain Forum
Monaco
March 19 – 21, 2019 –
Money20/20 Asia
Singapore
Upcoming ICOs
AEN
(AEN) Sale starts September 8 Sale Ends October 20 / An already established network, active both online, offline as in mainstream media, the AEN team has all the right tools, connections, skills and expertise in-house, to make this ambitious project a guaranteed success
Attrace
(ATTR) Sale Starts September 8 Sale Ends October 27 / The first fully decentralised affiliate marketing platform
Health Fx Platform
(HFX) Sale Starts September 8 Sale Ends September 30 / The Future of Healthcare
DAEX
(DAX) Sale Starts September 9 Sale Ends September 14 / The creators of DAEX (Digital Assets Exchange), an open and distributed clearing ecosystem for cryptocurrency exchanges
Further Network
(ATON) Sale Starts September 9 Sale Ends October 7 / A Blockchain based P2P network to help travel industry complete the Billing, Settlement, and Payment (BSP) process in real-time using Smart Travel Record® and Aton® (Settlement & Payment Currency of Further)
HighVibe Network
(HV) Sale Starts September 9 Sale Ends October 10 / A token based ecosystem built for autonomous growth. Instantly rewarding users monetarily for participation on the platform for actions such as submitting quality content, voting, commenting, participating in campaigns, activating new users, and more
Osmium
Investment Coin (OiCOiN) Sale Starts September 9 Sale Ends November 15 / Participating in the global revenue of crystalline Osmium (scarcest precious metal on the planet)
ARAW
(ARAW) Sale Starts September 10 Sale Ends November 9 / Aiming to increase blockchain adoption for regular people across the world
Backpack Travel
(BP) Sale Starts September 10 Sale Ends September 20 / Devoted to the blockchain application in the tourism industry
BehaviourExchange
(BEX) Sale Starts September 10 Sale Ends October 10 / BehaviourExchange will enable B2C businesses to identify visitors and their personal characteristics when they visit their website
Boosteroid
(BTR) Sale Starts September 10 Sale Ends September 26 / A cloud services platform that provides easy access to software products and enables users to enjoy high processing power even on low-performance PCs, as well as on tablets, smartphones and other devices
Datablockchain
(DBCC) Sale Starts September 10 Sale Ends October 31 / A revolutionary data platform that stands to disrupt the way that companies and individuals gather premium data
Exmo Coin
(EXO) Sale Starts September 10 Sale Ends October 10 / Grow your crypto capital
Foresting
(PTON) Sale Starts September 10 Sale Ends October 10 / Solving the asymmetry of the information that is prevalent in our society, pursuing fair contracts, distributing them according to their ability, and sharing active contributions with one another
Kinesis
(KVT) Sale Starts September 10 Sale Ends November 11 / Introducing yield-bearing digital currencies based 1:1 on allocated physical gold (KAU currency) and silver (KAG currency)
MEvU
(MVU) Sale Starts September 10 Sale Ends October 22 / Enabling people to bet on anything, anytime, and against anyone
MusicLife
(MITC) Sale Starts September 10 Sale Ends September 22 / A blockchain-based music ecosystem
Payperblock
(PayB) Sale Starts September 10 Sale Ends September 30 / Leading the way for a smarter future, by connecting the right talents with the right jobs, so that every potential blockchain project has the best prerequisite to succeed
PopChest
(POP) Sale Starts September 10 Sale Ends September 30 / A decentralized video distribution platform built by PopChest…think "YouTube on the Blockchain". Based in Los Angeles, the team behind this project has industry veterans from NBCUniversal, Sony, Warner Brothers and more
ServAdvisor
(SRV) Sale Starts September 10 Sale Ends October 10 / Decentralized services recommendation platform designed for local service consumers and travelers
Universal Reward Protocol
(URP) Sale Starts September 10 Sale Ends September 30 / By accepting to share their shopping data with the network, a shopper earns reward tokens, while the data is used by retailers to build redemption offers that best suit each customer's needs
Xtribe
(XRBT) Sale Starts September 10 Sale Ends October 10 / Providing a bridge between the virtual world and realty, a personal geolocated e-commerce app at your fingertips
Yanu
(YANU) Sale Starts September 10 Sale Ends September 30 / Serving beverages, handling payments, identifying and communicating with clients
GlobeCas
(GCT) Sale Starts September 11 Sale Ends October 24 / Providing solutions to simplify the process of land-based casinos making the move to an online format while minimizing the cost
Masternode Invest
(MS) Sale Starts September 11 Sale Ends October 11 /  The mission is to increase the possibility to invest on coin with POS-Masternode consensus algorithm
MyCryptoBank
(MCB) Sale Starts September 11 Sale Ends October 14 / An online bank allowing any client registered in the electronic bank system to make a full range of bank operations, such as payment processing, debit cards, credits and cheap investment products, use of  crypto assets as credit security, and many others based on Blockchain technology
Out of the Cloud
(OUT) Sale Starts September 11 Sale Ends October 11 / Redefining the file sharing industry and setting the new standard for how people are sending and receiving large files
Sansox
(AQUA) Sale Starts September 11 Sale Ends October 10 / Aiming to becoming a leading force in the battle against water shortage and water scarcity globally
WeBuy
(WBY) Sale Starts September 11 Sale Ends November 4 / On-demand Platform for Buyers and Sellers on the Blockchain
EthicHub
(ETHIX) Sale Starts September 12 Sale Ends October 12 / Transnational peer-to-peer crowdlending platform
Global Tech
(GTH) Sale Starts September 12 Sale Ends December 10 / A comprehensive cryptocurrency trading and exchange platform, which not only allows users to trade cryptocurrency, but also ensures that their experience is profitable and straightforward
Green Power Exchange
(GPT) Sale Starts September 12 Sale Ends September 24 / P2P Energy Trading Platform
Safinus
(SAF) Sale Starts September 12 Sale Ends October 12 / A platform, where new entrants to the crypto market can join profitable cryptocurrency and ICO portfolios in just a few clicks
Zwoop
(ZWP) Sale Starts September 12 Sale Ends September 28 / Helping shoppers find the products they want from any website, at the best available price with a single click checkout
300cubits
(TEU) Sale Starts September 13 Sale Ends September 20 / A Cryptocurrency that Propels Ships
HELIX Orange
(HIX) Sale Starts September 13 Sale Ends October 31 / Bringing the best ICO projects together with accredited investors
Astoria
(APC) Sale Starts September 14 Sale Ends October 14 / Make, Deploy and Publish Your Own ICO
Beercoin
(BCBC) Sale Starts September 14 Sale Ends October 31 / The Bavarian start-up that created the first and only beer-based cryptocurrency based on Ethereum
Biotor Biomass
(BBT) Sale Starts September 14 Sale Ends November 30 / Producing Wood Pellets
Crypt ON
(IPT) Sale Starts September 14 Sale Ends December 21 / A complex peer-to-peer (P2P) crypto platform, designed to evolve into full-cycle crypto DAO-system
MatchDiary
(MDR) Sale Starts September 14 Sale Ends November 30 / An innovation app for football fans based on blockchain all for free. MatchDiary will provide fans with even greater experiences by offering them a complete platform with currently dispersed tools
Ojooo
(OJX) Sale Starts September 14 Sale Ends October 25 / 
Decentralized solution blockchain for Advertisers and Investors.
Parkade
(PRKC) Sale Starts September 14 Sale Ends November 1 / creating a full-scale parking system that can be used in any city to make parking more affordable and convenient
Click here for 21st Money's complete list of upcoming and ongoing ICOs
The 21st Money Team consists of a group of former Wall Street executives, commodities traders, and stock brokers, who have come together to share their experience and insight. Each member of the team has more than 25 years of professional experience and expertise that is contributed to our articles. Our mission is to help people. We endeavor to provide the information that can help people make good choices.
Good information is the key to making good decisions.
You can contact The 21st Money Team via email: info@21stmoney.com