---
---
Crypto News, Analysis, Forecasts, ICOs, and Events for the week ending 11/9
Crypto News & Analysis
November is here and many are asking when will federally regulated cryptocurrency exchanges appear within the US. One of the key reasons the Securities and Exchange Commission gave for their denial of Bitcoin based Electronically Traded Funds (ETFs) was the fact that the underlying security or asset was not listed on a federally regulated exchange. ICE, The Intercontinental Exchange that owns and operates the New York Stock Exchange, and NASDAQ, the world's 2nd largest Exchange qualified by its market cap value of US $10 trillion, appear ready to fill that void. It has been reported that Ripple (XRP) executives are really excited about the opportunity to be on equal exchange grounds with Bitcoin.
Nasdaq and ICE are not the only government regulated exchanges planning to add cryptocurrencies to the list of securities they traffic in. There hasn't been any official announcement as to what other cryptos would have a listing on the exchanges besides Bitcoin. Although there is a large amount of speculation from journalists and crypto enthusiasts that the top three cryptos will be listed on these new digital exchanges when they launch.
The timeline for these launches may take place as early as the 1st quarter of 2019. The cryptomarket is in a state of suspense waiting for the next thing that will bring on a bull market. Technology continues to advance. The internet of things is becoming more efficient. 5g internet speeds will be available to everyone soon. Cryptocurrencies may be able to trade on trusted and regulated exchanges. Some of these advancements and events are reportedly speculated to be unveiled during the early part of next year. A technology explosion is on the horizon. dApps, smartphones, and their functionality within blockchain technology is an upcoming future we can all witness. The networks needed to process the data have been formed. A regulatory environment for digital assets is being put in place. Cryptocurrencies like Bitcoin may begin to play a greater role in the daily lives of the world's population soon.
Forex News & Analysis
Bitcoin values remain steady. The cryptocurrency continues to maintain a value above its lower level of resistance, near US $6,200, throughout another week. The United States Dollar lost value against Bitcoin this week. The USD started the week pairing with Bitcoin at an exchange rate of $6329/ 1 Bitcoin. The pair ended the week exchanging at a rate of $6446 / 1 Bitcoin. The USD recorded a 1.85% decrease in value when paired with Bitcoin by the week's end.
The USD index (.DXY) compares the USD to 6 globally dominant currencies. The USD gained marginal ground when compared to its global counterparts towards the end of the week. The .DXY index recorded a value of 96.28 at the beginning of the week. The Index closed at 96.90 recording a 0.64% gain in value by the week's end.
The GBP gained ground against the USD from the previous week. The dollar ended the week exchanging with the GBP at $1.2975 losing 0.03% from the previous week's level of $1.2971 / 1 GBP. The GBP exchange rate fluctuates with the mood of Brexit actually taking place, without any more major obstacles. The Mexican Peso(MXN) ended the week marginally weaker when compared to the GBP, exchanging with the GBP at 26.1268 Pesos / 1 GBP a 0.591% decrease in value from the previous week's level of 25.9731 Pesos / 1 GBP.
Crypto Futures News & Analysis
The Securities and Exchange Commission (SEC) will no longer except formal public commentary about the 9 Exchange Traded Fund (ETF) applications that are pending SEC approval. The last day to put your two cents in was November 5th. Some journalists and analysts following the crypto ETF story were optimistic the SEC may give the approval on the 5th or at least give some indication as to how and when the applications were to be decided upon. But there weren't any public statements being issued from the regulatory watchdogs of American investments. All those in favor of a Bitcoin based ETF, secretly hope that no news is good news.
The Bitcoin ETF is significant to the crypto market because it is a financial product that can be marketed to unqualified investors. Meaning, you don't have to be a millionaire to be involved. The ETF is also easier to understand for non tech-savvy investors. Analysts and investors speculate that the value of Bitcoin may improve greatly when the ETF is introduced to the crypto marketplace. It was only 6 weeks ago when rumors of the SEC approving an ETF application sent the price of Bitcoin very near to US $8,000.
So what does the future hold for Bitcoin based ETFs? We can't predict the future with any surety. What we can do is examine recent events and upcoming announcements and hopefully benefit from the information available. We know there are currently 9 applications pending for crypto ETFs. We know the SEC recently formed a new division to oversee digital assets, the FinTech Hub. And we know the SEC has announced the review period for the VanEck SolidX Bitcoin ETF application will end February of 2019.
The value of Bitcoin is holding steady. Maintaining a value above its lower threshold of price resistance near $6,200. The last sale of Bitcoin at the time of this writing was at $6,446. Preparations are being put in place to handle digital asset investments by the US regulatory agency. ETF applications have been submitted. The next day of reckoning will be in February of 2019.
The 21st Money Team
will keep you informed.
Crypto Stocks & Analysis
The advancement of the internet directly affects the advancement of cryptocurrencies. As internet services become more efficient, access to your digital wealth becomes more seamless. When it comes to cryptocurrencies, if you don't have access to the internet, you don't have access to your crypto wealth (something to think about).  
Iridium Communications inc. (IRDM) has brought a unique brand of global communications and data transfer to the public marketplace. They have attracted the attention of 21st century investors, through their satellite communications network, NEXT. IRDM already has 66 satellites in low Earth orbits. They will be launching the last group of satellites to  complete the NEXT satellite constellation on December 30th. A great way to bring in the New Year!
After the NEXT satellite constellation is completed, IRDM will move from being a developer of a global communications network to a facilitator of global communications. Recent statements from IRDM's CEO, Matt Desch, described the unique features of IRDM's network as well as the lucrative contracts and relationships that are in place. IRDM will be able to provide communications to aircraft when they fly over remote areas of the world. The movement of shipments in transit can be tracked over oceans, rails, and the air with the cutting edge technology IRDM can provide. IRDM also has contracts with the US Department of defense. The full scope of IRDM's innovations are still yet to be discovered. There has never been a communications network of this scale. IRDM boasts that their network has reduced global data transfer latency to an almost unnoticeable level. There are already more than 400 partners involved in the support of the network, including a recent partnership with Amazon(AMZN).
Iridium Communications Inc. (IRDM)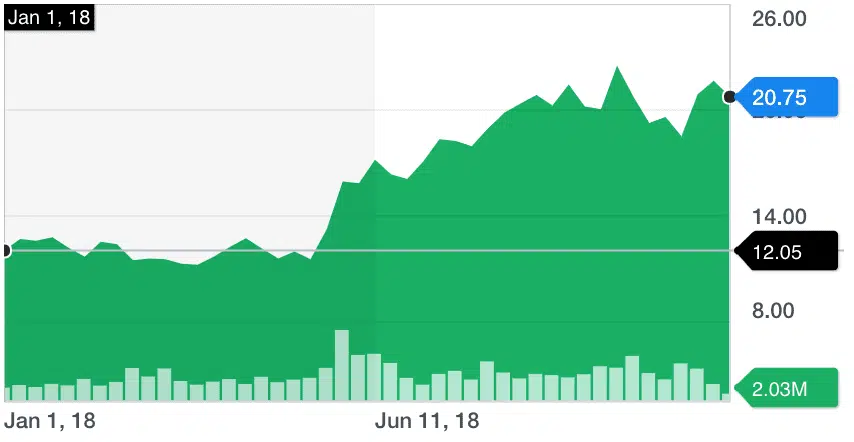 Chart Courtesy Of
Yahoo
Operational earnings before interest, tax, depreciation, and amortization have been reported to have grown 12% from the 3rd quarter last year. There is an expectation from IRDM that the earnings for the full year of 2018 will be $300 million, a 13% increase from 2017. 3rd quarter reports from IRDM have also detailed a 20% rise in equipment revenues. A compelling point of interest when you examine the IRDM balance sheet is, they get to right down the depreciation of the satellites once they are successfully deployed. The depreciation on the NEXT constellation of satellites was $62.1 million in the 3rd quarter of this year compared to $22.9 million for the corresponding period a year ago.
This Week's Biggest Winners in Cryptocurrencies
1) +92.02%
BOScoin
(BOS) Started the week at $0.0677 Ended the week at $0.130
2) +81.50%
Smartlands
(SLT) Started the week at $3.345 Ended the week at $6.071
3) +50.37%
PeerCoin
(PPC) Started the week at $0.945 Ended the week at $1.421
4) +38.32%
SirinLabs
(SRN) Started the week at $0.107 Ended the week at $0.148
5) +38.14%
Worldwide Asset eXchange
(WAX) Started the week at $0.0818 Ended the week at $0.113
6) +31.46%
Einsteinium
(EMC2) Started the week at $0.0890 Ended the week at $0.117
7) +25%
RChain
(RHOC) Started the week at $0.0872 Ended the week at $0.109
8) +24.22%
Scry.info
(DDD) Started the week at $0.0512 Ended the week at $0.0636
9) +24.18%
Agoras Token
(AGRS) Started the week at $0.579 Ended the week at $0.719
10) +24.16%
Odem
(ODE) Started the week at $0.178 Ended the week at $0.221
11) +22.11%
Decentraland
(MANA) Started the week at $0.0778 Ended the week at $0.0950
12) +18.96%
ProximaX
(XPX) Started the week at $0.00341728 Ended the week at $0.00406529
13) +18.67%
QuarkChain
(QKC) Started the week at $0.0450 Ended the week at $0.0534
14) +16.39%
Dignity
(DIG) Started the week at $0.0360 Ended the week at $0.0419
15) +14.79%
Noahcoin
(NOAH) Started the week at $0.00053399 Ended the week at $0.00061296
Crypto Chart of the Week
BOScoin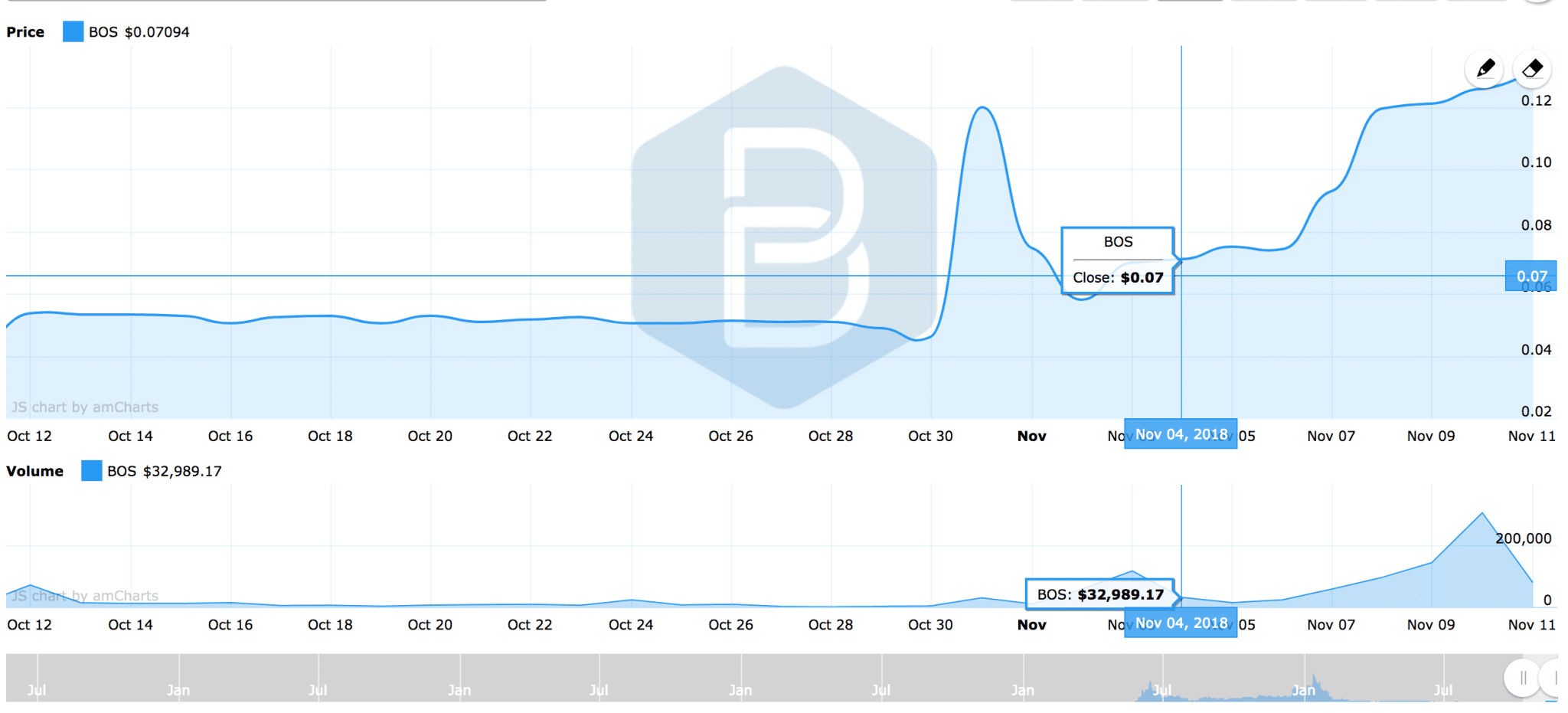 Chart Courtesy of
Coinvaluator
BOScoin
(BOS) ranks 100th on the list of cryptos ordered according to their market capitalization. BOScoin's current market cap is $57,320,000. BOScoin describe themselves as:
"a crypto coin issued on Blockchain Operating System (BOS) which is aimed towards decentralization of the governing systems. Blockchain Operating System uses "Trust Contracts" similar to smart contracts on Ethereum. Trust Contracts are securely executable contracts based on decidable programming framework known as Owlchain. The underlying "Modified Federated Byzantine Agreement (mFBA)" consensus algorithms of BOScoin reduces the block interval to 5 seconds and increases the transaction speeds up to 1000 TPS. BOScoin incorporates a "Congress Network" which creates a more democratic decision-making process. The BOScoin self-governing ecosystem consists of Congress Network, Trust Contracts, Incentive system, Decentralized applications, Common budget and Decentralized consensus (mFBA)."

Coinlib
$145,537 worth of BOS changed hands November 9th at an average price of $0.12.
Heard Through the Grapevine
Upcoming ICOs and Events
Upcoming Events
November 12 – 14 –
SZ Economic Summit
Berlin, Germany
November 12 – 16 –
Singapore Fintech Festival
Singapore
November 12, 13, 15, 19, 22, 24, 27, 30 –
European Blockchain Hub Tour
Vienna, Madrid, Stockholm, Manila, Ho Chi Minh, Jelu, Bangkok, London
November 15 –
VRTL Media Summit
Los Angeles, California USA
November 16 – 17 –  
CryptoFinance 2018
Oslo, Norway
November 21 – 22 –
Russian Blockchain Week
Moscow, Russia
November 21 – 23 –
CryptoEvent RIW Conference
Moscow, Russia
November 28 – 29 –
Blockchain Expo North America 2018
Santa Clara, California
November 29 – 30 –
Monaco International Blockchain Forum
Monaco
March 19 – 21, 2019 –
Money20/20 Asia
Singapore
Upcoming ICOs
Sentigraph.io
(EMOT) Sale Starts November 9 Sale Ends December 10 / An innovative Early Stage Startup with an objective of helping businesses and individuals gain unique insights, and make good decisions based on the feelings of customers or peers in a social network like Twitter
Hyperbridge
(HBX) Sale Starts November 10 Sale Ends September 10 / Developing decentralized protocols for the deployment of dApps within an industry specific "micro-economy", facilitated through their protocol-driven platform BlockHub to unite producers & consumers
Smart League
(POD) Sale Starts November 10 Sale Ends December 8 / A global, decentralized platform that will determine the organization and quality of amateur sport management in a disruptive way
ServAdvisor
(SRV) Sale Starts November 12 Sale Ends December 12 / Developing a revolutionary approach to leveraging the benefits of blockchain technology and providing a direct connection between retailers, service providers and users
Utile Network
(UTL) Sale Starts November 14 Sale Ends December 31 / enabling users to receive rewards for generating, adding, monitoring and detecting valuable information
BitCanna
(BCNA) Sale Starts November 15 Sale Ends June 30, 2019 / Providing a decentralized payment network, Supply chain and Trust network for the legal cannabis industry
Citowise
(CTW) Sale Starts November 15, 2018 Sale Ends January 15, 2019 / Providing the crypto-community with a reliable and professional cryptocurrency wallet, fighting back against scammers and hackers, adopting cryptocurrencies for mass use and assuring a high quality of ICO projects
Greentoken
(GTN) Sale Starts November 15 Sale Ends December 15 / A cryptocurrency mining with lifelong free green electricity, based on an innovative waste-processing plant with a 100% recycling capacity, without harm to the environment and preliminary separate collection of garbage
Empleos.io
(PLEO) Sale Starts November 15 Sale Ends December 5 / A new technological platform that brings Blockchain, Machine Learning, and a Rewards system into the online recruiting market
Javvy
(JVY) Sale Starts November 15 Sale Ends May 14, 2019 / The full integration of a universal wallet connected to numerous exchanges presently available to the cryptocurrency market
Prime Shipping Foundation
(PSF) Sale Starts November 15 / Sale Ends December 1 / The world's first payment ecosystem for shipping, residing 100% in the Blockchain
Verifier
(VRF) Sale Starts November 15 Sale Ends December 15 / An innovative technology designed to verify identity, events, deals, and any other kind of data
Vidion
(VIDI) Sale Starts November 15 Sale Ends December 15 /  The first platform for open independent video-journalism developed on the blockchain technology
Virtual Rehab
( VRH) Sale Starts November 15 Sale Ends December 14 / An evidence-based solution that leverages the advancements in virtual reality, artificial intelligence, and blockchain technologies for pain management, prevention of substance use disorders, and rehabilitation of repeat offenders
The 21st Money Team consists of a group of former Wall Street executives, commodities traders, and stock brokers, who have come together to share their experience and insight. Each member of the team has more than 25 years of professional experience and expertise that is contributed to our articles. Our mission is to help people. We endeavor to provide the information that can help people make good choices.
Good information is the key to making good decisions.
You can contact The 21st Money Team via email: info@21stmoney.com