LONDON (UPI) — Police in Britain arrested a man Tuesday in connection with the death of ice hockey player Adam Johnson.
Johnson, a former NHL player who was playing with the Nottingham Panthers, died after a "freak accident" during a game against the Sheffield Steelers on Oct. 28. Johnson sustained a cut on his neck caused by another player's skate. He was 29.
South Yorkshire Police announced Tuesday the arrest of an unnamed man on suspicion of manslaughter. He remains in custody.
"We have been speaking to highly specialized experts in their field to assist in our enquiries and continue to work closely with the health and safety department at Sheffield City Council, which is supporting our ongoing investigation," Becs Horsfall, detective chief superintendent with the South Yorkshire Police said in a statement.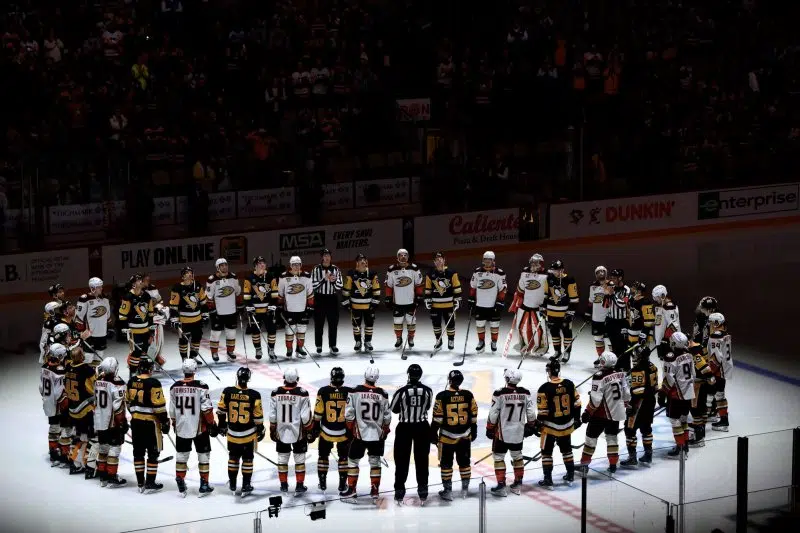 "Adam's death has sent shockwaves through many communities, from our local residents here in Sheffield to ice hockey fans across the world," Horsfall continued. "We know these communities will expect us to handle this investigation with the same professionalism, fairness, and sensitivity as any other and request that members of the public refrain from comment and speculation, which could hinder this process."
Tanyka Rawden, senior coroner for South Yorkshire, said Johnson was taken by ambulance to Northern General Hospital in Sheffield, where he died as a result of "an incised wound to the neck caused by the skate of another player."
"During the course of the investigation, my inquiries revealed matters giving rise to concern," Rawden said in a Nov. 3 report. "In due course, the inquest will consider whether the use of a neck guard or protector could have prevented Mr. Johnson's death. At this stage of my investigation, however, I am sufficiently concerned that deaths may occur in the future if neck guards or protectors are not worn."
The English Ice Hockey Association announced Oct. 30 that neck guards or protectors will be made mandatory equipment for all players starting next year. The rule does not apply to the Elite Ice Hockey League in which Johnson played.
Johnson was born in Hibbing, Minn. He previously played 13 games for the NHL's Pittsburgh Penguins after starting his career in the American Hockey League, where he played with the Wilkes-Barre/Scranton Penguins, Ontario Reign, and the Lehigh Valley Phantoms. He also played with the Malmo Redhawks in Sweden and the Augsburger Panthers in Germany, according to his obituary.
"Adam's family is being supported through this investigation by our officers," South Yorkshire Police said in a statement. "They have asked for their privacy to be respected at this incredibly difficult time."
Jonna Lorenz, United Press International