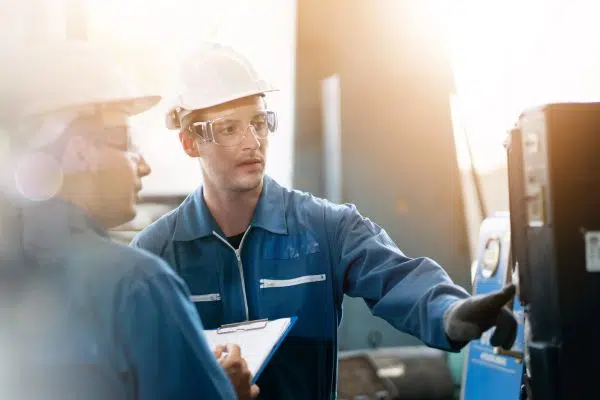 Safety and security are essential factors in any industrial setting, but they're particularly vital on a factory floor. With countless machines, high-energy processes, and employees on the move, knowing how to enhance them both on your factory floor is critical for an efficient and productive work environment. Create such an environment for your employees with these practical ways to create an optimum safe and secure work environment.
Provide proper safety training and communication
Employee training is crucial for ensuring a safe and secure factory floor. Conduct regular training sessions and update workers on safety protocols, emergency procedures, and proper equipment handling.
Develop a culture of open communication, emphasizing the importance of reporting safety concerns or potential hazards.
Perform regular maintenance and inspections for optimum safety
When it comes to safety and security, regular maintenance and inspection are key. Routine equipment checks, servicing, and timely repairs are necessary to maintain optimal performance and prevent accidents.
Create a detailed maintenance schedule and assign a dedicated team to handle maintenance tasks to ensure your factory floor remains safe and secure.
Incorporate programmable logic controllers
Programmable logic controllers (PLCs) are essential for automating and controlling industrial equipment. By integrating PLCs into safety and security, factories can minimize equipment malfunctions, human error, and accidents.
These intelligent systems monitor factory operations in real time, detect anomalies, and promptly shut down equipment before problems escalate.
Implement an access control system
Factories should implement access control systems to enhance security further and minimize potential theft. You can reduce unauthorized access and improve employee accountability by controlling which employees have access to specific areas and equipment.
An access control system can also provide valuable information on employee locations in case of emergencies.
Invest in personal protective equipment
Lastly, provide employees with necessary personal protective equipment (PPE), such as hard hats, earplugs, goggles, and gloves, to protect them from potential hazards. Encourage proper PPE usage by making it a part of the company culture and implementing disciplinary measures for non-compliance.
Knowing how to enhance safety and security on your factory floor is critical for creating a productive and efficient work environment. By implementing the factors mentioned above, you can significantly reduce risks and create a safer, more secure factory floor.