ST. LOUIS — A Fortune Top 1000 company will soon call Missouri home. Advantage Solutions, a marketing company based in Irvine, California plans to relocate to St. Louis County in the first quarter of 2024.
According to St. Louis Business Journal, Company CEO Dave Peacock expects there to be up to 40 people working at the new location in Clayton. Peacock told KMOX Radio in St. Louis that the area has a lot of good things going on.
"For us it was less about leaving California specifically," Peacock said. "I mean, we actually, we're going to retain a very important collaboration center there. We have some key leaders and some back office that's going to continue to remain there, but we really, as we were one, kind of hiring and looking for people, we found amazing talent here in St. Louis and in the Midwest more broadly."
He also cited the city's more affordable cost of living as the reason why he plans on making the move.
"Obviously I'm from St. Louis, I'm always biased, but we were open-minded. We looked at other locations," Peacock said. "At the end of the day, St. Louis worked. We found great talent here. I think it's a city that's on the rise and a city of possibility. There's a lot of good things going on here. You've got 16 Fortune 1000 companies here now. We'll be a new one."
The company also plans to open a collaboration hub in Chicago this fall.
More information about the move is available here. The audio from the KMOX interview is below.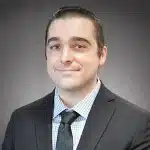 Anthony Morabith is an anchor and reporter for the Missouri Radio Network, also known as Missourinet. Morabith is a graduate of Baldwin Wallace University.