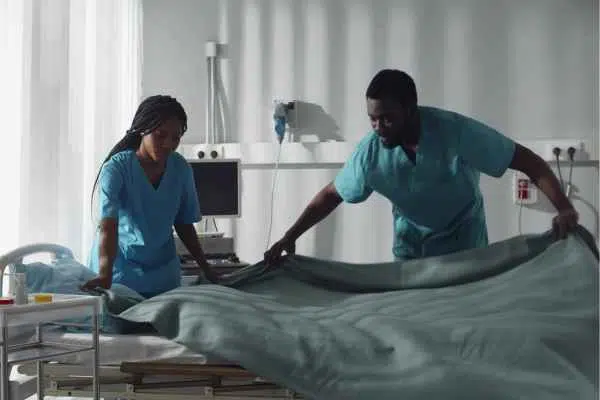 When you or a loved one is admitted to the hospital, it's natural to focus on the care doctors and nurses provide. However, the hospital bed is one aspect of a safe and healing environment that might not immediately come to mind. Explore how damaged hospital beds put patients at risk and how technicians partner with nursing staff to create a safe environment.
Infection control
Infection control is critical to patient care, and a damaged hospital bed can become a breeding ground for potentially harmful bacteria and viruses. Cracks and breaks in the bed frame or mattress can harbor dangerous pathogens, putting patients at risk of acquiring infections such as MRSA and other healthcare-associated infections (HAIs).
Nursing staff must conduct daily inspections as part of an essential hospital bed maintenance routine. Additionally, technicians need to clean, repair, or replace mattresses between patients to limit the spread of infection.
Patient recovery and comfort impacts
One of the main goals of hospital care is to facilitate patient recovery, and a comfortable hospital bed is a key component of this process. However, when a bed is damaged, patients may experience discomfort from uneven or sagging mattresses, unstable frames, or malfunctioning head, foot, or side rail adjustment controls. This discomfort not only interferes with proper rest but can also exacerbate health issues, such as bedsores or pain.
In addition, hospital beds are often equipped with various medical devices, such as IV poles, specialized monitoring equipment, and respiratory support systems. When these devices are compromised due to a damaged bed frame or worn-down attachment points, it can lead to ineffective medical care and compromised recovery.
Importance of regular hospital bed maintenance
To prevent the negative impacts of damaged hospital beds, hospitals and care facilities must implement regular maintenance routines. This not only involves sanitation and basic upkeep but also checking for wear and tear, such as broken wheels, loose bed components, or the failure of electronic controls.
When a hospital bed is found to be damaged, prompt repair or replacement is necessary to ensure all patients receive the optimal level of care and comfort during their stay. A proactive maintenance system can help mitigate risks and improve overall patient safety and satisfaction.
Damaged hospital beds put patients at risk for healthcare-associated infections, recovery difficulties, and discomfort. By addressing infection control concerns, being mindful of patient recovery and comfort, and emphasizing the importance of regular maintenance, hospitals and care facilities can ensure that damaged beds do not compromise patient safety and well-being.