ST. CHARLES, Mo. — The Lindenwood men's basketball team (9-16, 4-8 OVC) secured a wild come-from-behind victory over UT Martin (15-10, 7-5 OVC) on Saturday afternoon by a final score of 80-75 from Hyland Arena in St. Charles, Mo.
The Skyhawks shot the ball well to start the game, as their fast-paced offense build a 16-5 lead. UT Martin extended its lead by shooting the three-pointers with precision, making it 24-9 at the 11-minute mark. Jacob Tracey knocked down a long-range shot to spark a seven-point run late in the half.
Tommie Williams brought the deficit to six points inside one minute to play, but a three-pointer and a half-court heave put the Skyhawks up 44-32 to end the half.  Williams posted eight points with one board and an assist in the first 20 minutes of play, while Tracey collected all nine of his points from behind the arc.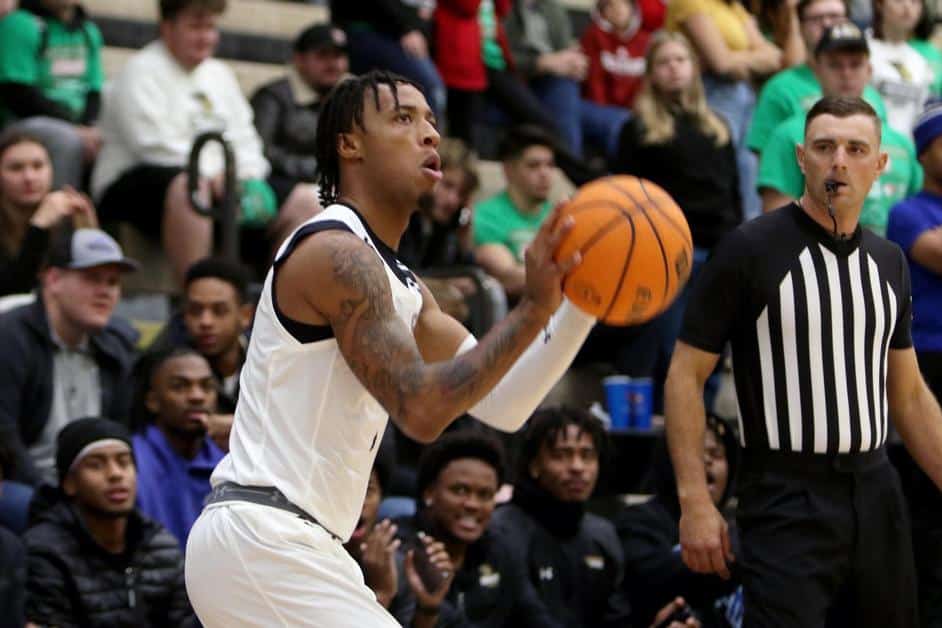 Lions battle back in second half
UT Martin went ahead by a score of 52-39 in the opening five minutes of the second frame.  Lindenwood battled back, as a three-point bucket by Chris Childs at the 11:27 mark brought the Lions within five points.  At the halfway point, Brandon Trimble hit a three-pointer on the fast break to tie the game at 58.  Less than two minutes later, Keenon Cole set the crowd off by giving Lindenwood a 63-60 lead.  Trimble knocked down another long-range shot, as Cam Burrell gave Lindenwood the 68-60 advantage with 7:26 to go in regulation.
The Skyhawks pulled within one point with less than two minutes to go in the game. Williams made a tough bucket to extend the lead back to three points.  Trimble hit a pair of free throws to give the Lions an 80-75, which they held on to for the win.
Williams came off the bench to post 21 points on 8-of-12 shooting.  The Belleville, Ill. native pulled down five boards, dished out four assists, and committed just one turnover.  Cole tallied 18 points with seven rebounds and four blocks on the defensive end.  Trimble made clutch shots on Saturday, as he ended his afternoon with 16 points on 3-of-4 shooting behind the arc.  Tracey had a phenomenal all-around game, as he posted nine points with eight boards, dished out seven assists, and tallied one block with one steal.
As a team, Lindenwood shot 50.9 percent from the floor, including 10-of-21 from three-point range.  The Lions dished out 17 assists and collected six blocks.
"Fantastic win for our team," said head coach Kyle Gerdeman.  "What a great atmosphere and home court advantage today.  Our guys just kept battling and a great group effort got us over the top today."
Up next for Lindenwood
Lindenwood will close out its three-game homestand Thursday as the Lions host SIUE at 7:00 p.m. from Hyland Arena.