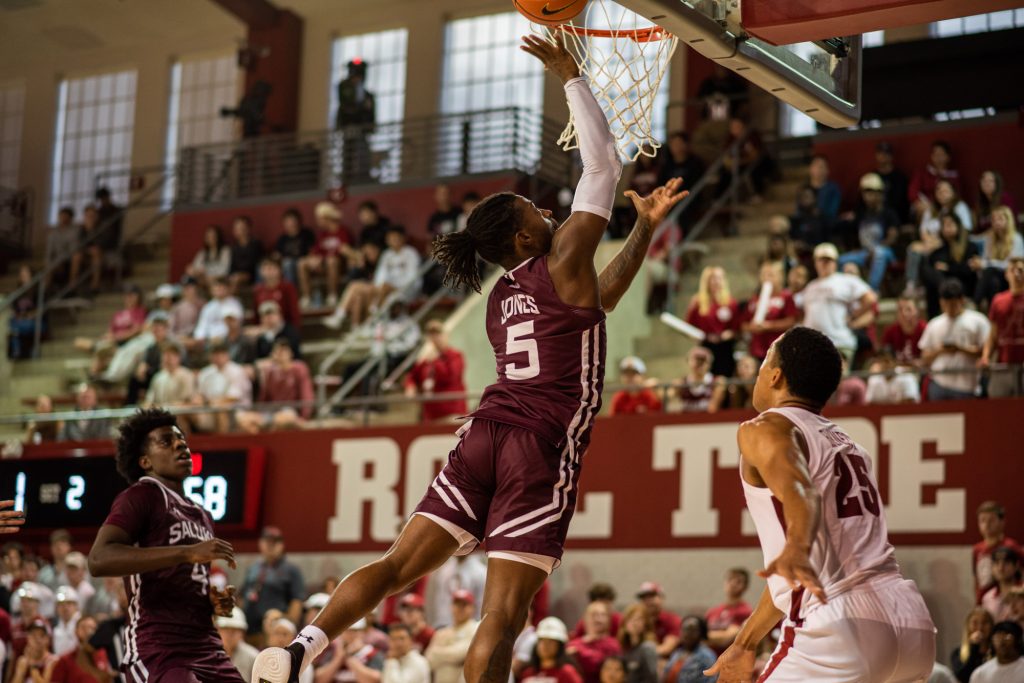 | Team | 1 | 2 | F |
| --- | --- | --- | --- |
| Southern Illinois | 27 | 37 | 64 |
| Alabama | 37 | 36 | 73 |
TUSCALOOSA, Ala. — The SIU Salukis men's basketball team fell on the road to No. 20 Alabama 74-63 Saturday afternoon in a charity exhibition game inside Foster Auditorium.
Six Salukis scored seven or more points in the balanced scoring attack led by returner Dalton Banks (4-of-5) and newcomer AJ Ferguson (4-of-7) who dropped in 10 points each.

Marcus Domask scored nine points while grabbing five rebounds while Lance Jones added nine while swiping three steals in 21 minutes of action. Redshirt freshman Foster Wonders shot 3-for-4 with a pair of triples for eight points.

Alabama won the battle on the glass, outrebounding SIU 46-29 in the game, including a 19-8 advantage on the offensive boards. The Crimson Tide converted their 19 offensive rebounds to 14 second-chance points.

Southern closed the game on a 12-2 run with Wonders knocking down a pair of shots from behind the arc and Jones getting to the rim twice and dropping in four points during the stretch.

SIU held the Crimson Tide to 41 percent shooting (26-of-63) overall and 3-for-22 from deep over the game. The Salukis stepped up the defense late, holding Alabama scoreless in the final 3:38 of action while forcing four turnovers during that time.

Brandon Miller led the Crimson Tide with 14 points and six rebounds in 28 minutes of action.
Salukis open season against Little Rock
The Salukis open the regular season against Little Rock on Nov. 7 at Banterra Center. A limited amount of discounted tickets are available in section 113 and can be purchased by visiting SIUSalukis.com/PackThePound.
Season tickets are available now
Season tickets are on sale now, with prices beginning as low as $125. For more information, fans can call the SIU Ticket Office at (877) SALUKIS.
Tim McCaughan, SIU Sports Communications
A 2014 Southern Illinois graduate, Tim McCaughan joined Saluki Athletics in August 2022 and is the primary contact for SIU basketball and baseball.
He spent the previous six years at Indiana State as assistant director of athletic communications serving as the primary sport contact for several Sycamore programs, most recently with Sycamore basketball, cross country, golf, spirit squad while also serving as a member of the ISU Hall of Fame committee. He spent five years working with the Sycamore baseball program -- promoting the team during a pair of NCAA postseason appearances, three years as the primary football contact while spending his first two years in Terre Haute working with ISU's volleyball and women's basketball programs.
He has promoted student-athletes and coaches to several postseason awards during his time at Indiana State, most notably linebacker Jonas Griffith, who earned six All-American honors during his career as well as Ryan Boyle who was named the Missouri Valley Football Conference Newcomer of the Year. He also saw Sycamore head football coach Curt Mallory be named the MVFC Coach of the Year as well as a finalist for the STATS FCS Eddie Robinson award, which honors the National Coach of the Year. McCaughan played a role in the first Academic All-American award for Indiana State baseball since 2009 when catcher Max Wright earned the honor following the 2019 season as well as promoting Geremy Guerrero to a program-record five All-American honors during the 2021 baseball season.
McCaughan covered a nationally ranked Sycamore baseball team in 2019 that picked up its 10th NCAA Tournament appearance after securing the No. 2 seed at the Nashville Regional following a Missouri Valley Conference Tournament Championship -- the first in over 20 years for the program. After knocking off both McNeese and Ohio State, the Sycamores advanced to the regional final against No. 1 ranked Vanderbilt, falling to the eventual National Champion Commodores. He also promoted the MVC Newcomer of the Year in Collin Liberatore as well as the League's Defensive Player of the Year in Jake Means.