Baltimore Ravens quarterback Lamar Jackson earned MVP honors as he led the team to their best record in the NFL.
As a result of this breakout season, an announcement was made Wednesday, confirming that he will be gracing the cover of the NFL's prominent video game, Madden NFL 21.
Jackson revealed the news on Twitter via the Ravens:
Jackson honors for 2019-20 season
In addition to MVP honors, Jackson became a Pro Bowl and first-team All-Pro selection. He would set two of three seasonal records in the 2019-20 season involving QB rushing: most rushing yards and most rushing attempts. Additionally, he was the league passing touchdowns leader and tied Ben Roethlisberger in perfect passing ratings.
Jackson would also win the Bert Bell Award at the end of the season.
This extended edition of this original article from Midwest Sports Network comprises of additional information from the NFL. Additional content provided by Jake Leonard.
---
For more sports, news and entertainment, follow Gabriel Schray and Midwest Sports Network on Twitter @MWSNsports. Additionally, you can like the MWSN page on Facebook. You can also find Schray on Twitter @SchrayGuy.
You can also follow Heartland Newsfeed on Twitter @HLNF_Bulletin. Additionally, you can follow Heartland Newsfeed on Facebook and Reddit among other platforms.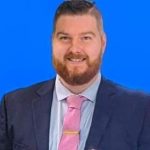 Gabriel Schray is an editor and contributing writer for Heartland Newsfeed and the editor-in-chief of Midwest Sports Network. He is one of the top up-and-coming sports play-by-play broadcasters in the United States. He is currently the voice of Adrian College Athletics, where he calls football and hockey. You can hear Schray on ACSN, ACTV, WVAC, BCSN 1, BCSN 2, BCSN Now, JTV Jackson and more. Professional portfolio: GabrielSchray.com