SPRINGFIELD (Capitol News Illinois) — Illinois Secretary of State Alexi Giannoulias this week filed administrative rules that would increase the age at which a driver is required to pass a driving test when they renew their license, raising it from 75 to 79.
The rules – proposed by Giannoulias to the legislative Joint Committee on Administrative Rules – would keep in place a state policy that went into effect during the COVID-19 pandemic.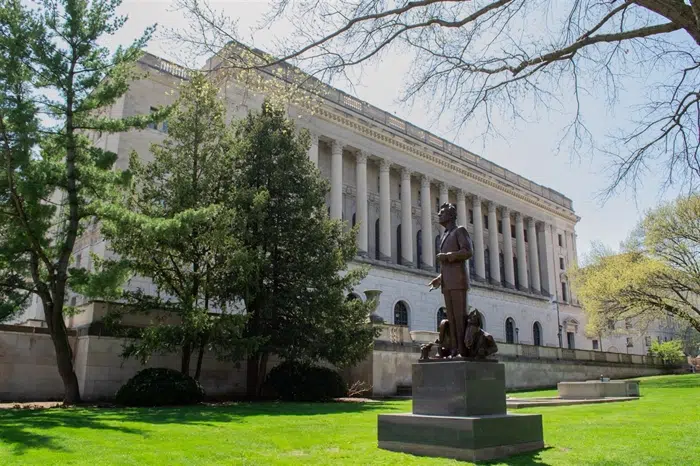 During the pandemic, lawmakers in Springfield temporarily modified several requirements for driver's licenses to ease strain on the Secretary of State's office, which oversees driver services facilities. That included the age increase for required driver tests.
But that policy was scheduled to expire on Oct. 1, so Giannoulias' office filed emergency rules to extend it beyond that date, along with identical permanent rules. That rulemaking committee's next regular meeting is planned for Oct. 17 in Chicago, at which point it can determine whether to leave the rules in place, request changes, or file an objection.
"This change would make Illinois driving standards for senior drivers more consistent compared to other states while keeping Illinois as one of the strictest states for license renewals," Giannoulias said in a Wednesday news release.
Revised policy for Illinois drivers for license renewals and driver testing
Under the pandemic-era policy and the rules proposed by Giannoulias, all drivers aged 78 and younger must renew their licenses every four years. At age 79, drivers must complete a driving test as part of that process.
State policies for those aged 79 and older would not change under Giannoulias' proposed rules. Drivers aged 81 to 86 must renew their license and take a vision and driving test every two years, and drivers aged 87 and older must renew their license and take those tests every year.
Illinois is the only state in the country that has a driving test requirement for people over a certain age. Illinois also requires more frequent driver's license renewals for people over age 80, something only 23 states require.
The change will affect approximately 3 percent of Illinois' driving population, according to the Secretary of State's office.
Secretary of State's office issued a report on the elderly and driver safety
As part of the temporary change, the Secretary of State's office issued a report on driving safety among older drivers, which found that drivers aged 75 years and older were involved in fewer crashes – even after the temporary rule change went into effect – than those aged 16 to 69 years.
"When it comes to total crashes, individuals who are aged 75 and older consistently experienced lower crash rates compared to nearly every other age group," according to the report.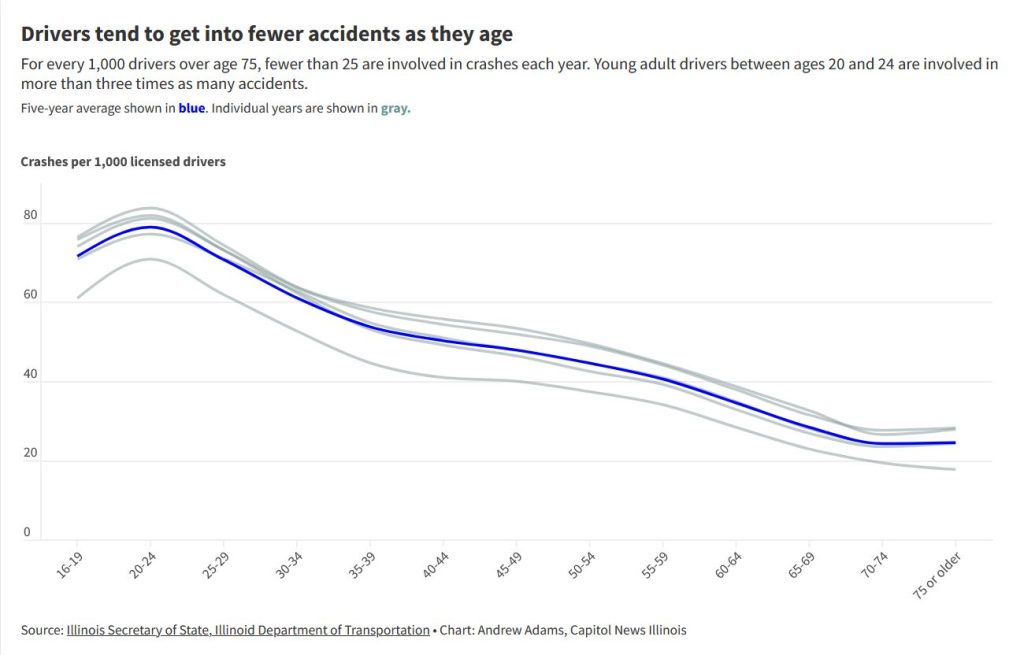 Age requirements for drivers are a longtime issue for Illinois elderly organizations
Age-related requirements for drivers have been a longtime issue for AARP Illinois, an advocacy group that represents the interests of those over age 50.
"Age alone is not determinative of driving performance" Ryan Gruenenfelder, outreach and advocacy manager at AARP Illinois, told Capitol News Illinois.
Gruenenfelder said AARP receives complaints about age-related requirements for drivers, noting they make competent drivers feel "targeted" for their age. He said the organization will continue to work with the secretary of state's office and advocate for using a person's mobility or indicators of driving behavior to trigger possible driving test requirements, regardless of age.
But Gruenenfelder said AARP commends Giannoulias for his recommendation this week. The group also approves of Giannoulias' September action to move the state's busiest driver services facilities to an appointment-based model, as well as this week's announcement that two new facilities targeted to senior drivers will offer walk-in services.

ndrew Adams joined Capitol News Illinois in February as a state government and data reporter.
He joined the team after a stint at Government Technology magazine, where he covered the public-sector technology industry, focusing on state and local government and education. He brings the same focus on high-engagement and enterprise reporting to the CNI newsroom.
A Chicago resident, Adams has spent time as a staff reporter at the Effingham Daily News and has freelanced for outlets across the state. He received his master's degree from UIS and a bachelor's degree from the Illinois Institute of Technology in Chicago.