CHARLESTON – Macie Begley's goal in the 73rd minute Thursday lifted SIUE Cougars women's soccer to a 2-1 come-from-behind victory at Eastern Illinois.
SIUE opened the Ohio Valley Conference season with a win as Begley scored from 10 yards out on a pass from Matea Diekema. Begley became the 11th different player to score a goal this season for the Cougars.
"I'm really happy with the performance on the road today," said SIUE Head Coach Derek Burton.
The Cougars, 3-4-1 overall and 1-0 in the OVC, controlled the flow of the game, outshooting the Panthers 17-5 and collecting 13 shots on goal.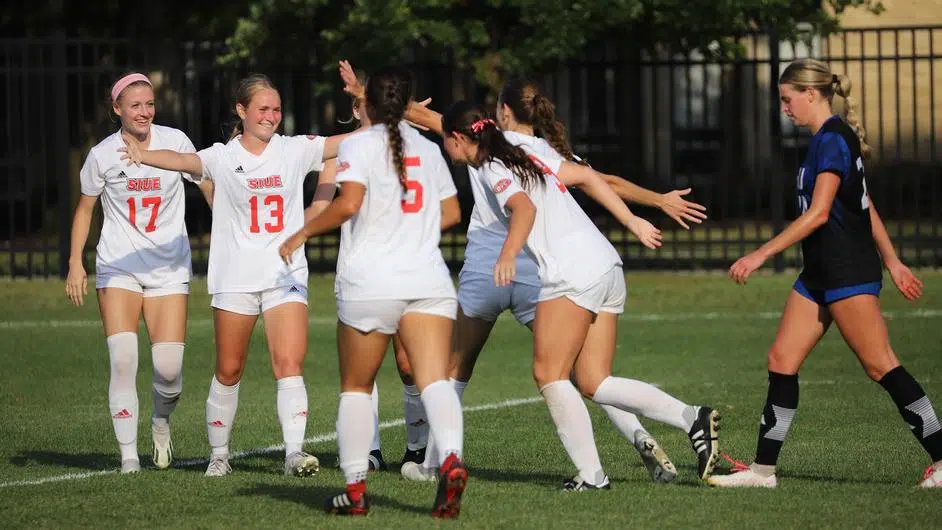 Eastern Illinois, 1-5-2 and 0-1 in the OVC, opened up the scoring at 15:30 when Zenaya Barnes went high for her goal off a pass from Carys Grieve.
"We had a great start and felt that we had the run of play a bit and gave up an awkward goal which took us some time to rebound from," said Burton. "But we did, and that's a sign of real growth from our group."
SIUE rebounded 15 minutes later when Jay Viola assisted on Aleah Minehart's first goal of the season. The goal by Minehart was the 10th different player to score for SIUE this season.
"Diekema led that regrouping with incredible defensive work and kick-starting our attack," said Burton. "We stuck with it and got a great equalizer from Jay to Aleah, both just into the game. It gave our confidence back."
Cougars prevail on the stat line
Minehart led the Cougars with three shots while Kasey Neidhardt, Savannah DeFini, and Diekema provided two shots each.
Taylor Spiller earned the win in goal for the Cougars and had one save. Ella Kratochvil finished with 10 saves in the loss.
"We kept at it into the second half and legitimately could have had two or three more and rattled the bar," Burton noted. "Anytime you leave a road game in conference with all the points, it's job done. I'm very happy for the team."
SIUE welcomes Lindenwood on Sunday for the Cougars' first OVC home contest of the season. Game time is 2 p.m. at Korte Stadium.
Box score
| Team | 1 | 2 | F |
| --- | --- | --- | --- |
| SIUE | 1 | 1 | 2 |
| Eastern Ill. | 1 | 0 | 1 |
Cougars vs. Panthers: Stats by the numbers
| Game Stats | SIU | EIU |
| --- | --- | --- |
| Goals | 2 | 1 |
| Shots | 17 | 5 |
| Shots on Goal | 13 | 2 |
| Saves | 1 | 10 |
| Corners | 8 | 2 |
| Offsides | 2 | 3 |
| Fouls | 13 | 6 |
15:30
Zenaya Barnes (2)
Assisted By: Carys Grieve
GOAL by EIU Barnes, Zenaya Assist by Grieve, Carys.
30:50
Aleah Minehart (1)
Assisted By: Jay Viola
GOAL by SIU Minehart, Aleah Assist by Viola, Jay.
72:19
Macie Begley (1)
Assisted By: Matea Diekema
GOAL by SIU Begley, Macie Assist by Diekema, Matea.