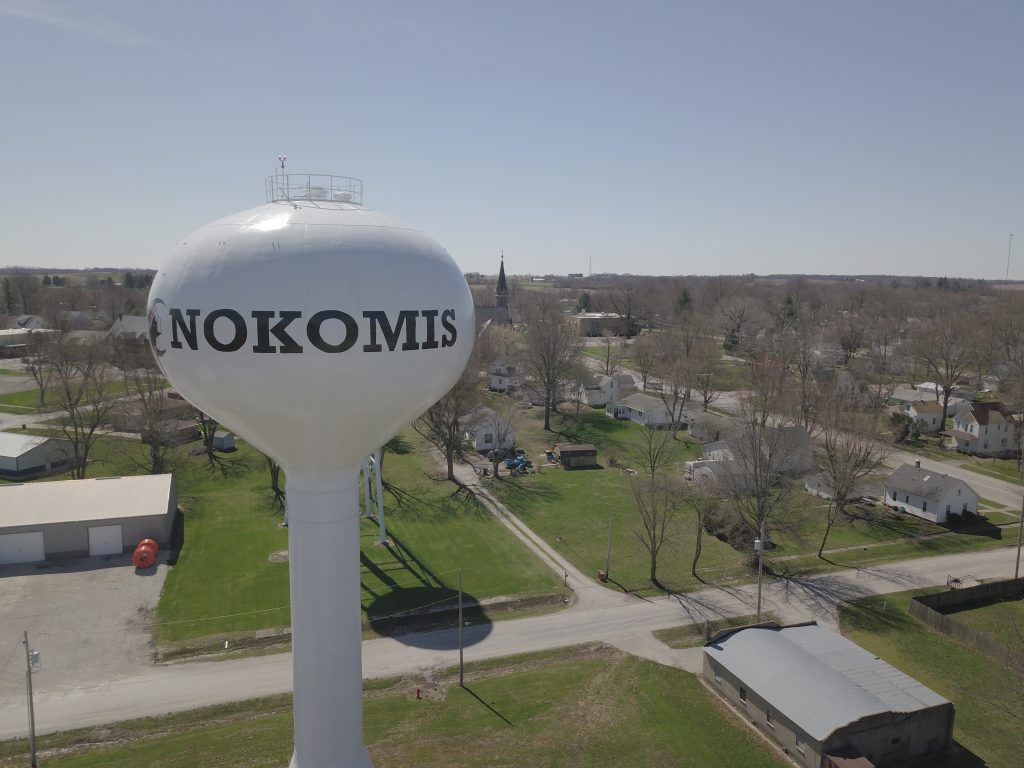 NOKOMIS — The Nokomis City Council took action on a new ordinance relating to the placement of dumpsters on city property at its regular meeting on Tuesday, Dec. 27. The meeting was one day later than normal due to the Christmas holiday.
The council approved an ordinance relating to dumpsters and/or roll-off containers and permitting for placement on city property.
Council members had safety concerns earlier this year about the large roll-off container that has been placed in front of two downtown businesses on State Street. The container has been shared by Frank Steele and Tim Brookshire. Steele has been working on a new business in the former Bell's Jewelry building. Meanwhile, Brookshire has been remodeling the former Country Companies office for an upcoming photography business.
The container has been there for many weeks and takes up two parking spots in front of business fronts that were already vacant. Commissioners feared the unlikely potential that someone could collide with the container due to its close proximity to the street.
The new ordinance requires a $10 fee remitted with an application. Approval and placement of the dumpster or roll-off container will be at the discretion of the council. Upon placement, the applicant will need to mark the perimeter of the object with construction cones, reflective tape, or barricades in order to alert drivers of the obstruction.
Noncompliance in getting a permit prior to setting out dumpsters or containers on public property will result in fines
Nokomis business district grant process changes
The council would also enter into a lengthy discussion relating to changes to the business district grant process.
The city uses business district tax and sales tax funds to provide grants to businesses. Since its inception, businesses have been seeking assistance to improve their buildings within the business district.
The grants, which can be approved for up to $6,000, can be applied to building improvements. These improvements can include windows, roofs, structural repairs, and HVAC upgrades. The program is an incentive for residents and business owners seeking to maintain the structural soundness and aesthetics of the downtown business district.
There has been a bit of ambiguity in the current ordinance. It was brought to light by a recent grant application by an owner of a building on State Street. The building in question formerly housed an automotive dealership.
The building's owner, Ryan Follis, stated his plans for the property is to use the business as a commercial space, possibly for manufacturing or as a marketplace.
Without a clear plan, council members would assume that it would not bring in sales tax dollars. As currently established in the ordinance, it is necessary to be eligible for the grant.
Discussions will continue to refine the ordinance governing the grant program for clarity in such situations.
Other business
In additional business, the council approved a motion to appoint Joletta Hill as the city's representative to the Nokomis-Witt Ambulance District Board.
---
For more local news, follow Jake Leonard on Twitter @JakeLeonardJRN and Heartland Newsfeed @HLNF_Bulletin on Twitter.
Additionally, you can follow Heartland Newsfeed on Facebook and Reddit among other platforms. You can now follow our news updates on Telegram, Flote, and MeWe.
Support independent journalism. Become a patron on Patreon for as little as $1 a month. There are other donor options as well.
Get the latest news updates on our radio network via Spreaker, TuneIn, and other platforms.
---