Editor's Note: This was initially to publish on Saturday morning, Apr. 2, but the times to publish on Saturday and on Sunday for a reschedule were skipped over.
GARLAND, Tex. — WrestleMania weekend was nothing short of amazing, perhaps with the exception of WrestleMania itself.
One of the highlights of the weekend was Ring of Honor Wrestling's Supercard of Honor XV. One of the matches on the show was the unification match for the ROH World Championship between Jonathan Gresham and Bandido.
Gresham became the undisputed ROH World Champion in an insane nearly 25-minute back-and-forth brawl in the main event. Joining Bandido at ringside was manager Chavo Guerrero. Despite a mostly clean fight from Bandido, Guerrero got his ejection for attempting to cheat.
The match was in the books due to Bandido's inability to defend the championship at Final Battle due to a positive test for COVID-19.
A match for the interim champion was booked at Final Battle between Gresham and Jay Lethal. Gresham emerged victorious to become interim champion, receiving the original world title.
Both Gresham and Bandido had reason to claim they were the true ROH World Champion. While Gresham's argument was on the basis of his victory at Final Battle, Bandido's argument is much different. Bandido states that he never actually lost the title and was a fighting champion during ROH's hiatus.
Lethal confronted Gresham after the bout, before getting ambushed by Lethal and Sonjay Dutt. An unsuccessful save attempt by Lee Moriarty was made before getting nailed with the Lethal Injection.
The biggest news post-match was that of the return of Samoa Joe.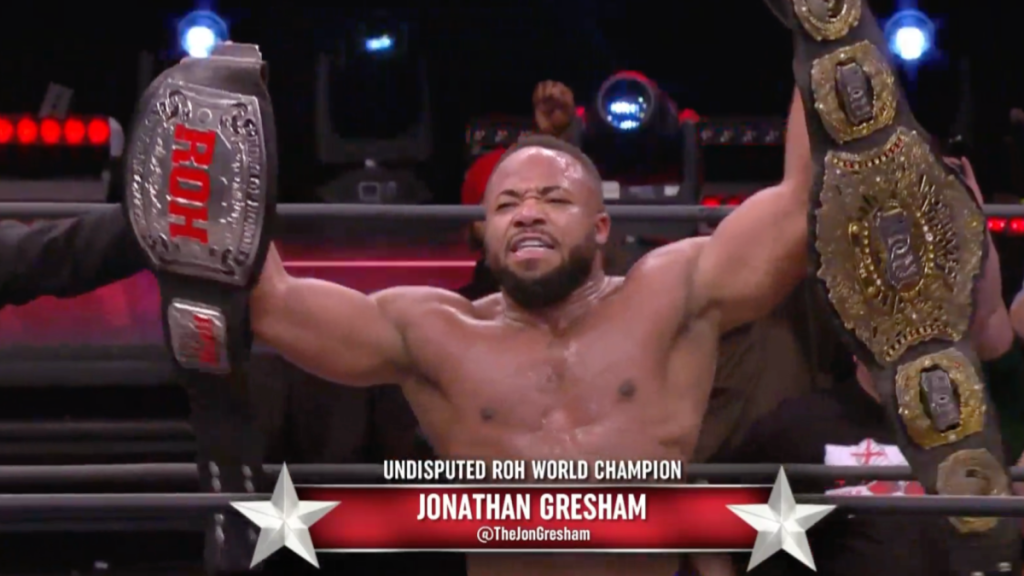 ROH title defenses in AEW?
Early signs are likely that Gresham will be defending the ROH World Championship on AEW programming. That seemed somewhat apparent in remarks made by AEW and ROH owner Tony Khan.
"I would love to have Jonathan defend the title in AEW and on AEW programming, that's definitely something that is possible," Khan said. "Jonathan has traveled the world, and he can tell you better than anybody about his vast experience in wrestling and all the championships he's held all over the world."
"I'm excited for him to defend the championship in AEW, on Dynamite, on Rampage, on lots of our great programming and also, there are a lot of great relationships we have with other companies and relationships Jonathan has with companies," Khan added. "There are a lot of exciting possibilities both in AEW and through the Forbidden Door."
Gresham had similar sentiments, stating that he would consider it an honor to defend the title on AEW television. This follows previous statements that he wants to face Bryan Danielson and CM Punk.
"It would be an honor to take Ring of Honor to national television," Gresham said.
He would then elaborate on some of his experiences in professional wrestling.
"My life has been somewhat of a Cinderella story," stated Gresham. "I grew up idolizing the men and women that worked for Ring of Honor, and my passion grew."
"It got me out of a lot of trouble," he added. "I wouldn't be sitting next to Tony Khan right now if it wasn't for Ring of Honor."
A life-long goal to become World Champion
Gresham stated that his goal was to become Ring of Honor World Champion.
"I never told anybody, but I worked night and day to get exactly where I am today," he said. "My goal along the way was to make sure that Ring of Honor lives on."
The overall card has helped ensure the continued future of the promotion, with Gresham's match playing a pivotal role.
"I want to take the idea, the essence, the heart and soul of Ring of Honor to everybody around the world," said Gresham.
The full video of Gresham's appearance in the Supercard of Honor post-show media scrum is below.
---
For more sports news, follow Jake Leonard on Twitter @JakeLeonardJRN and Heartland Newsfeed @HLNF_Bulletin on Twitter.
Additionally, you can follow Heartland Newsfeed on Facebook and Reddit among other platforms. You can now follow our news updates on Telegram, Flote, and MeWe.
Support independent journalism. Become a patron on Patreon for as little as $1 a month. There are other donor options as well.
Get the latest news updates on our radio network via Spreaker, TuneIn, and other platforms.