PITTSBURGH
— Due to some further delays, the NFL game between the Pittsburgh Steelers and Baltimore Ravens will not take place this weekend. Instead, it will now be taking place on Tuesday as other teams enter Week 13. Original plans following positive
COVID-19
tests
would postpone
the game to Sunday. The initial release would attribute the first postponement to positive COVID tests among the Ravens organization. However, the NFL felt extending it to Tuesday was necessary. The press release would attribute the reasoning "out of an abundance of caution." The release states that the league was wanting to ensure the health and safety of players, coaches, and game-day personnel. Their decision would also come following consultation with medical experts. Tuesday's game at Heinz Field in Pittsburgh will take place at 8 p.m. Eastern. The national broadcast will be airing through NBC. The Steelers/Ravens game was initially to take place on Thanksgiving. The Steelers currently have a ten-game winning streak. The Ravens (6-4) are looking to break their two-game losing streak. The Ravens would lose against the New England Patriots and Tennessee Titans.
Week 13
: The Steelers will be in gridiron action at home against the Washington Football Team. The Ravens will be hosting the Dallas Cowboys in Baltimore.
---
This article is a longer version based on an NFL release and a previously published article on

 

Midwest Sports Network.
For more sports news, follow Gabriel Schray on Twitter @schrayguy and Midwest Sports Network @MWSNsports. You can also follow Heartland Newsfeed @HLNF_Bulletin on Twitter.
Additionally, you can follow Heartland Newsfeed on Facebook and Reddit among other platforms. You can now follow our news updates on Telegram, Flote, and MeWe.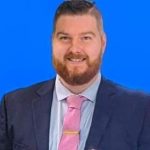 Gabriel Schray is an editor and contributing writer for Heartland Newsfeed and the editor-in-chief of Midwest Sports Network. He is one of the top up-and-coming sports play-by-play broadcasters in the United States. He is currently the voice of Adrian College Athletics, where he calls football and hockey. You can hear Schray on ACSN, ACTV, WVAC, BCSN 1, BCSN 2, BCSN Now, JTV Jackson and more. Professional portfolio: GabrielSchray.com