SAN FRANCISCO/MAHWAH, N.J.
(
Heartland Newsfeed
) — A pro-Trump financial news website who has experienced their fair share of social media censorship is once again in trouble.
ZeroHedge
, run by Daniel Ivandiiski (better known as Tyler Durden), has run afoul of the terms of service for social media platforms. Facebook
banned
the website's social media presence last March, with
a reversal
the following day, citing it was 'a mistake'. This time, it involves Twitter. The last update from the website under the #ZeroHedge hashtag involved a Coronavirus-related post with the
news headline
'
Coronavirus Contains "HIV Insertions", Stoking Fears Over Artificially Created Bioweapon', citing a conspiracy theory that the Coronavirus was manufactured in a lab in the Wuhan province of China as a biological weapon, citing claims that there were genetic similarities between the virus and HIV/AIDS.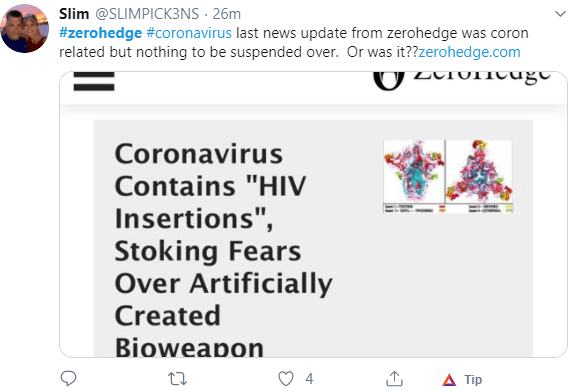 The conspiracy theory, regardless of how gruesome it may be, is unconfirmed. The news platform published
another article
earlier in the week entitled 'Is this the man behind the global Coronavirus pandemic?', alleging that scientist Peng Zhou concocted the virus, which is also unconfirmed. The articles, both written by "Tyler Durden", have published no factual information supporting the allegations and even doxxed Zhou in Wednesday's article. BuzzFeed
reported the doxxing
from the article two hours prior to Twitter suspending ZeroHedge's account. The doxxing involved the publication of Zhou's picture, name, email address and telephone number and encouraged readers to pay him a visit. There is no inclination as to whether the news organization will have their access restored on Twitter.