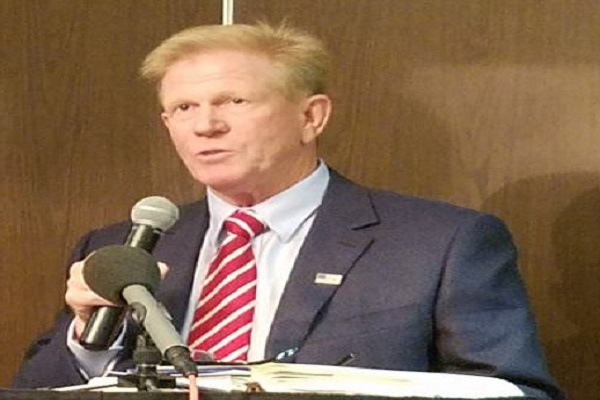 SPRINGFIELD (Heartland Newsfeed) — Freshman state Rep. Chris Miller is curious as to how many of his colleagues in the Illinois House of Representatives have a basic grasp on business, moreorless the basic tenets of economics.
"I sometimes wonder if they know the whole concept of being in business is to make a profit for yourself," Miller said. "On top of that, independent business owners take on the burden of going into business for themselves because they don't want someone else telling them what to do."
Miller's recent statement is sparked by rumors that Gov. J.B. Pritzker and the Democratic super-majority intend to push a statewide minimum wage of $15 per hour, with intent of being fast-tracked to the governor's desk before he delivers his budget address before the entire General Assembly on Feb. 20, according to a story from the Illinois Policy Institute.
No border state has made a statewide mandate requiring employers to pay more an hourly wage of $12 per hour. Any wages higher than that have, prior to this bill, been either at the discretion of the employer commensurate to experience and tenure or as negotiated between employer and labor unions.
"I have a real problem with government mandating employers what to pay employees," added Miller. "I think we need to sweep our own porch before we go around telling other businesses how to operate. As state governments go, it's not like Illinois has shown an ability to run its own business."
The bill passed via a 39-18 vote in the Illinois Senate Thursday along party lines, laying out a plan for the $15 hourly wage to be reached in January 2025. There will be no change in the wage during 2019 should it become law. The bill passed despite considerable opposition from state and national business organizations, with additional opposition support from the manufacturing and construction industries.
Miller cited that the ramifications should be very clear to everyone, including that of the small and medium business (SMB) community.
"People everywhere across the state are convinced this is a bad idea, especially for downstate business owners that will be forced to shutter," he said. "Springfield has to remember, Illinois is a lot bigger than just Chicago."
Miller noted that other states have only increased the minimum wage on a regional basis to mitigate the damage done to rural areas. One of the organizations in opposition to the bill, the Illinois Retail Merchants Association was not in favor of a statewide increase, but expressed support for adjusted rates and increases based on the region.
"I think people are struggling enough, and this kind of thing would only place another burden on them," Miller added. "This will only move more of them to seek to be someplace else where government isn't quite so intrusive and the environment is friendlier to businesses."
Miller was elected in the 2018 midterm election, defeating Democrat Shirley Bell by 20 points, to succeed Reggie Phillips, who chose to term limit himself.
House District 110 includes all or portions of Clark, Coles, Crawford, Cumberland, Edgar and Lawrence counties.