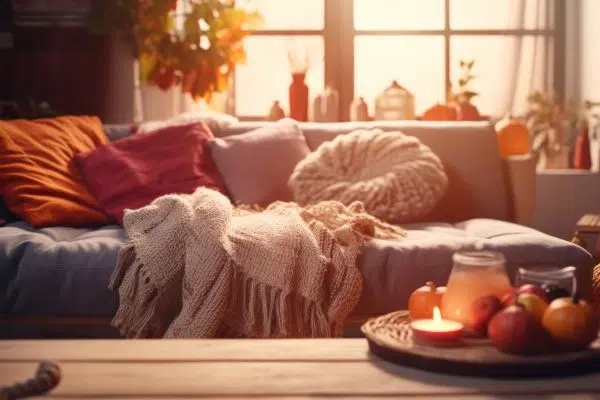 Whether you've bought your first home, moved into your first apartment, or settled into your forever home, interior design can feel daunting. With trends coming and going at rapid speeds, it can feel hard to keep up with the latest styles and themes homeowners tend to follow. Here are some simple tips to make your home look cozy and timeless.
Use trending colors for accents
It's true that trends come and go faster than ever, so it's essential not to use them as focal points of your home. By doing so, you'll have to change the style and colors in a few years, which can cost more in paint, furniture, decor, and more. Instead of making trendy home decor and color the primary focus, use them as accents for your home.
You can use the trendiest interior design colors for accessorizing in many ways. This includes updating the accent wall behind your bed or updating the bedding to the most current designs, colors, and textures. You can also add new wall decor and refresh your accessories, making it easy to transition from one style to another. Best of all, you can easily switch out decor and trendy styles when you're over it. Changing things up in small ways makes it more fun!
Combine traditional and modern home design
Too many home decor styles can give off a sense of confusion and overwhelm home visitors. Adversely, sticking with one type of interior design can make a home look like a time capsule. To avoid looking tacky and stagnant simultaneously, combine traditional and modern design with a touch of old and new.
Combining traditional and modern decor, textures, colors, and design features allows you to explore new add-ons and features while adding classic, sophisticated looks that never go out of style. You can try the 80/20 rules, where you have 80 percent of your home design for one style and 20 percent for the other. For instance, adding the traditional Belmont bedroom collection as the prominent furniture in your bedroom can leave some room for small modern decor, art, and technology.
Incorporate natural textures and materials
Achieving a cozy, timeless home isn't as complicated as expected. Home decorating takes a lot of influence from nature itself, so why not consider taking this influence further? Incorporating natural textures and materials into your home gives off an inviting, comfortable atmosphere that you don't drown out with bright colors and modern decor.
Incorporating natural materials and textures, such as baskets, houseplants, wood, and stone, is a great way to start. It gives off a softened, welcoming environment where friends can socialize. Remember that it's important to focus on balance and not go overboard.