EDWARDSVILLE – Shamar Wright scored his 1,000th career point and Ray'Sean Taylor collected his first double-double of the season as SIUE downed UT Martin 89-75 on Thursday night at First Community Arena. The Cougars used a hot start on a 14-2 run to start the game, capturing their 14th win on the season and sixth since beginning conference play.
"That run was huge," Head Coach Brian Barone said. "In games where we haven't played well, we found ourselves in situations where we were fighting from behind. A lot of different guys were contributing and making the right plays."
SIUE improves to 14-9 on the season and 6-5 in Ohio Valley Conference play. UT Martin falls to 15-9 and 7-4.
"It's great to be back home in front of a great environment again," said Barone. "The energy was really cool in the arena tonight. We felt the crowd from the start. The community is so important to us and it's a great feeling when you get to take your time heading up to the locker room after interacting with our fans. We appreciate them for always coming out to support us."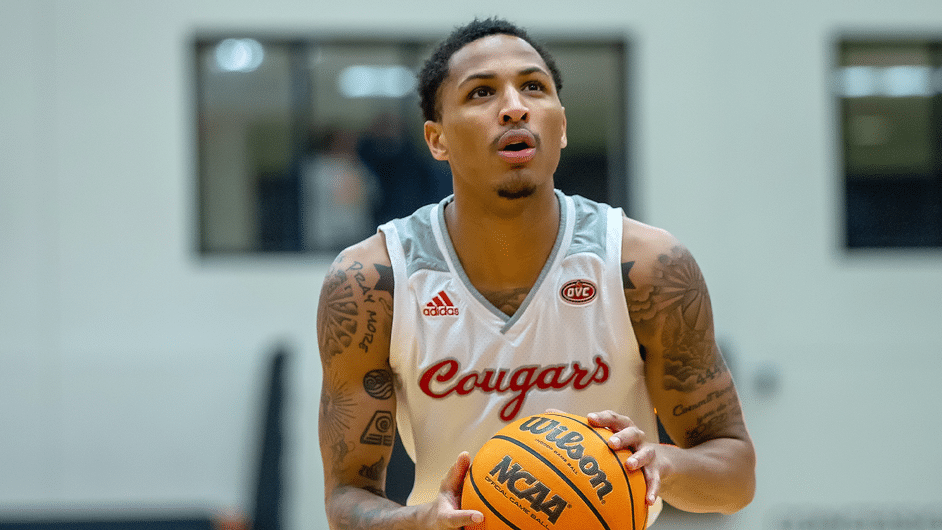 Wright scores 1,000 points halfway through the first half
At the 12:36 mark in the first half, Wright scored his eighth point of the contest on a jumper in the paint, becoming the 17th player in program history to exceed the 1,000-point threshold. He is the fourth player in the Division I era to reach the millennium mark. Wright finished the game with 15 points.
"I remember coming here my freshman year and just being really hungry," said Wright. "As I've gone through this journey, which has been crazy with years of COVID and battling through everything, I just showed up every day and worked hard. Next thing you know, I'm at 1,000 points. You have to appreciate every moment and that's what I have been doing this year."
"We put him in there for his first start at Belmont and he's been a Swiss Army Knife in his ability to justify being in the game," said Barone on Wright. "Shamar shows up and produces. He's had to play a lot of games. It's been really cool to see. He's a 1,000-point scorer at SIUE and has earned every point."
The Cougars concluded the first half shooting 57 percent (17-30) from the floor and 5-14 from behind the arc while scoring 10 points on second-chance opportunities. SIUE outrebounded UT Martin 24-12 in the opening half, taking a 49-27 lead heading into the locker room.
"I thought we came out with a good attitude with the thought that 'enough is enough'," added Barone. "We wanted to take this game and I thought DeeJuan Pruitt did a great job of taking the right shots, but more importantly brought physicality. He set the tone for all of us."
Cougars build on their lead in the second half
SIUE would take its largest lead of the night at 28 points under two minutes of play in the second half. The Cougars shot 55 percent (33-66) in the contest, its second-highest shooting percentage on the season, for a victory over the Skyhawks.
Pruitt collected his fifth double-double of the season, scoring 11 points and 13 rebounds. He was 4-11 from the field, 1-2 from deep, and 2-2 at the free throw line.
"Tonight's win was crucial," said Pruitt. "We know what we're capable of. I wanted to come out playing physically to put pressure on them."
Taylor also collected a double-double, scoring a game-high 27 points while grabbing a season-best 10 rebounds. He was 9-16 from the floor, 3-6 from long range, and 6-7 at the charity stripe.
"I wanted to play a well-rounded game after those losses," said Taylor. "I wanted to establish the pace of this game."
Taylor admitted to taking better shots and got some mismatches that we needed. Defensively, all five of us were locked in from the start."
Sophomore Damarco Minor also turned in a double-figure performance with 16 points. He finished 7-14 from the field and grabbed four rebounds.
"He's a good player," said Barone. "He's produced from the time he stepped on campus and doing things he has never been asked to do."
UT Martin's Desmond Williams led the Skyhawks with 19 points.
Coming up for Wright and the Cougars
The Cougars travel to Little Rock for a Saturday matchup with the Trojans. Tipoff is scheduled for 3:30 p.m.
"Little Rock is a very athletic team," said Barone. "They cut hard and have a variety of different defensive approaches. We'll be prepared as a staff and come ready to play."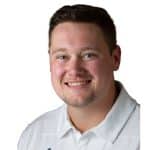 Owen Hetherington is an athletic communications assistant at Southern Illinois University at Edwardsville.