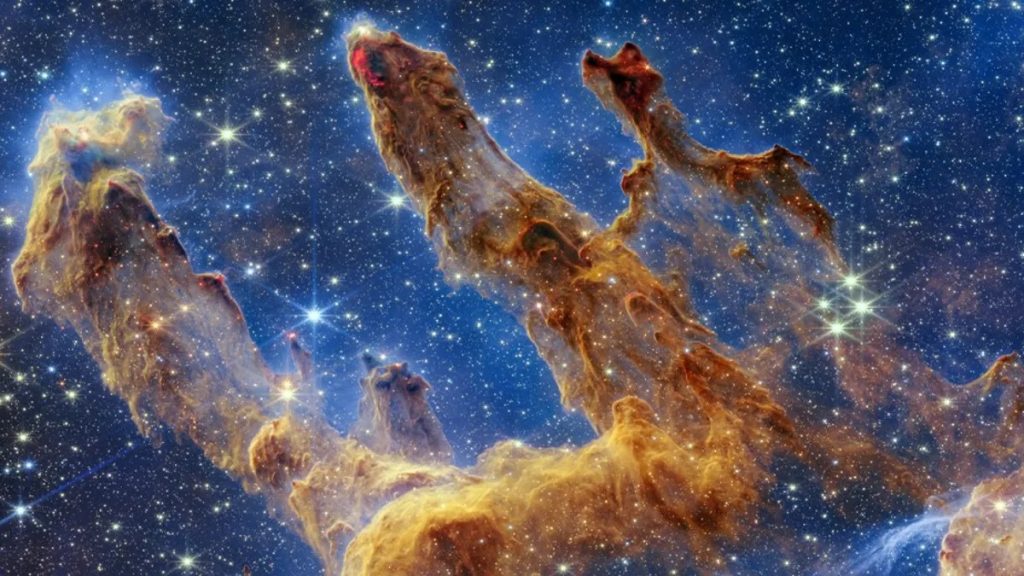 If your smartphone wallpaper is starting to look a bit mundane, look no further than the latest images from the James Webb Telescope. The Pillars of Creation are a star formation originally snapped in 1995 by the Hubble Telescope. 
Pillars of Creation
The Pillars of Creation is a famous shot taken by the Hubble Space Telescope in 1995. The image shows large clouds of gas and dust rising into three distinctive pillars. The formation is between 6,500-7,000 light-years away and shows the formation of stars.
Stars form when gas and dust condense in space and fuses into a nuclear core. The process takes millennia. The Pillars of Creation are a unique look at the process in action. Thanks to light from nearby stars, the images taken by the telescopes are nicely illuminated.
Hubble Telescope
The Hubble Telescope was the original space telescope to capture the amazing formation of gas and dust. The Hubble Telescope was launched in 1990. It is, however, in the decommissioning process. Its successor, the James Webb Telescope, is already snapping images.
It was the first to capture the Pillars of Creation in the Eagle Nebula. Back in 1995, these images were stunningly colorful and incredibly detailed. The quality of the original images has not diminished but the latest ones from the James Webb telescope are incredible.
James Webb Telescope
The James Webb Telescope is a worthy successor to the famous Hubble Space Telescope. This telescope is the latest engineering masterpiece from NASA. It uses a sensitive high-resolution lens to peer farther into space than ever and brings back images that Hubble would be proud of.
The latest images of the Pillars of Creation show gigantic gas clouds almost thirty years on, half a lifetime on earth, but only a moment in smaller terms. But the pictures don't just look prettier. They allow astronomers to identify more stars and measure the quantity of gas more precisely.
Aerospace technology
NASA is at the cutting edge of space technology. Although there have been funding issues in recent times they are still developing systems. These are instrumental for a manned mission to the moon to build a base camp – the Artemis Mission – and a manned mission to Mars scheduled for the late 2030s.
The engineers working on the NASA mission are highly trained and highly skilled. There are no barriers to entry if you have the qualifications. So, why not consider the Online Aerospace Electrical Assembly Technician Certificate Program to set you on your way?
Find out more
The latest images of the Pillars of Creation are beautiful. However, they also serve a scientific purpose. Now, NASA scientists can more accurately date the star formations – one of the youngest they have encountered in the galaxy – and gather more data on the materials. Find out more about Pillars of Creation and the latest NASA missions on the official NASA websites