When it comes to your office space, keeping it clean and tidy is essential. A well-kept office helps to ensure the health, happiness, and wellbeing of your employees, which in turn can help improve the overall productivity of your business and the job satisfaction of those within it. 
Moreover, it is important to keep your office clean and tidy if you are looking to attract customers and clients. Any visitors passing by your office will be put off by a disorganized, messy, and unclean space. It will not create an environment of impression that will attract new customers.
So to help you keep your office or
business premises
looking and feeling their best, here are some tips to keep your office space clean.
Tidy office desks
Desk space takes up a lot of surface area in an office and untidy desks can leave it looking messy. It can also render employees feeling unorganized. Having a tidy desk will not only improve the aesthetics of your premises but it demonstrates pride in the workplace. Most importantly, however, a clean and tidy working environment will help to improve staff morale and wellbeing in the office.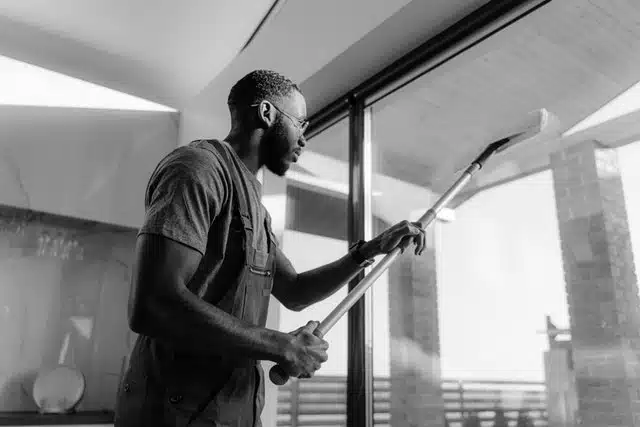 Clean the office floors 
The floors are another essential surface that needs to be kept clean and tidy. Most importantly untidy floors could present a safety hazard. Furthermore, untidy floors will make the entire space look and feel messy if not dirty. Ensure that no rubbish, paperwork, or boxes are left cluttering up floor space. Invest in a decent vacuum or
floor buffer
to ensure that any residual debris or mess is kept at bay. 
Keep technology clean 
The technology in your office is most likely to be the most commonly touched apparatus, with staff no doubt typing daily, picking up the phone, or tablets. Chances are staff are also eating at their desks and spreading crumbs and foodstuffs without even noticing it. It can be surprising how easily the office tech is overlooked when cleaning, yet it is one of the most common places to find bacteria building up. 
Ensuring that all office tech is regularly wiped down with
antibacterial spray
can help to limit the presence and spread of office germs. This will of course help prioritize the health of your employees and hopefully prevent the need for sick days. 
Think about your garbage 
When it comes to waste the best proactive steps you can take is to ensure that you have plenty of garbage cans and recycling stations installed around the office. This will help ease the burden of leaving bits of rubbish and recycling cluttering up workspaces and communal areas. Just don't forget to empty them. 
Consider professional cleaners
Asking staff to carry out a few of the basic hygiene and cleanliness measures is a great way to keep on top of the general aesthetics of your space. However, if you really want to ensure it is thoroughly cleaned and tidied, consider hiring professional commercial cleaners. It will ease the burden on you and your staff and ensure that your working environment is kept to the highest standards of cleanliness, and in turn, comfort.