Thinking about starting up a new store or recently launched one that isn't getting many customers? When you operate a retail store, it's important to do everything in your power to get customers. But how exactly do you get your store noticed? Is it all about local advertising? Or are there simpler and more active ways to help people learn about your store?
In this post, we've put together a couple of tips to help your store get noticed.
Be more active in trying to get customers to notice your store
Business owners that are more active in getting customers are often rewarded. Getting into the face of your customers and telling them about your business can be a great option for smaller stores and new businesses.
This can involve handing out free samples at a public location, it could mean attending local gatherings where customers might be, or it could even mean just standing outside of your store to talk about your business and the specials you have. As long as you're being more active about getting customers, people will notice you.
Become a part of the local community
You might also find that becoming a part of the local community can be a great way to get noticed as a business. This usually means participating in any local events that might be held, or it could involve trying to create your own events to help locals.
You could host a fundraiser for a good cause, you could bring people together to celebrate an occasion or event, or you could simply help those in need of assistance.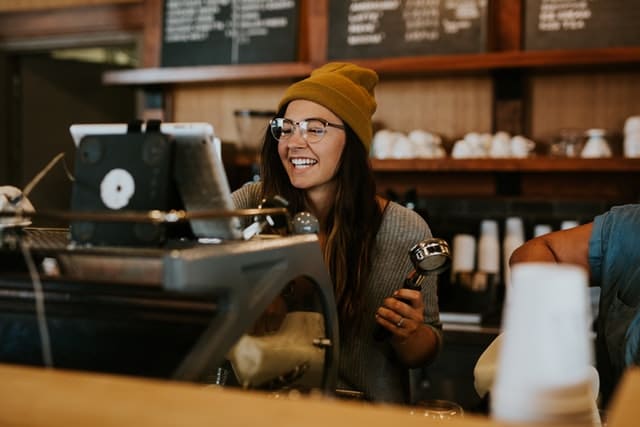 Make good use of the internet to get your store noticed
You can also use the internet to your advantage in order to get noticed. One of the simplest options here is to get listed on Google. That way, your business will show up if anyone searches for you or a business like yours on Google Maps.
You can also hire a local SEO agency to help you create content that will get you ranked on local searches. Every time someone searches for keywords relevant to your business, you could show up as one of the top results.
Not only does this help you get noticed, but it also makes you seem like a more reputable business.
Attend networking events when possible
You might also find success attending networking events. This usually means trade shows and other similar events where the goal is to market your business and its products and services, but you can also use it to meet competitors, new potential employees, and possible business partners for the future.
It's a brilliant way to get noticed in the long run and can even help you find your newest employees if you're currently recruiting for specific roles.
Use different forms of marketing
Marketing is important to help your business. But any good business owner will know that you have to use multiple different forms of marketing in order to get noticed by your audience. Don't just rely on something like local SEO; focus on traditional marketing options too like posters, flyers, and even billboards.
The more different types of marketing that you mix, the more likely you'll reach a wide range of customers. You might want to try and target specific audiences with different kinds of marketing if you have numbers and data to compare.
For instance, you might find that younger audiences are more likely to visit your website. Older people will typically discover you with newspaper ads and flyers. Using this information, you can tailor your ads to those specific audiences to make them even more effective.
Work with other businesses in your area
Don't forget that you can work with other businesses in your area to get noticed. This can mean partnering with other companies so that you can provide services to each other. A store that sells certain types of electronics might not have a specific part. As a result, they can point their customers in the right direction by guiding people to another local store.
This kind of mutual relationship with other businesses can help everyone's store grow. It can also bring more people to the local shopping district or area. It's a win-win situation for everyone.
Hopefully, this article has given you a couple of ideas on how to get your store noticed. It's not easy to grow a business, much less a physical store. However, there are certainly some simple ways to help you stand out from the crowd.