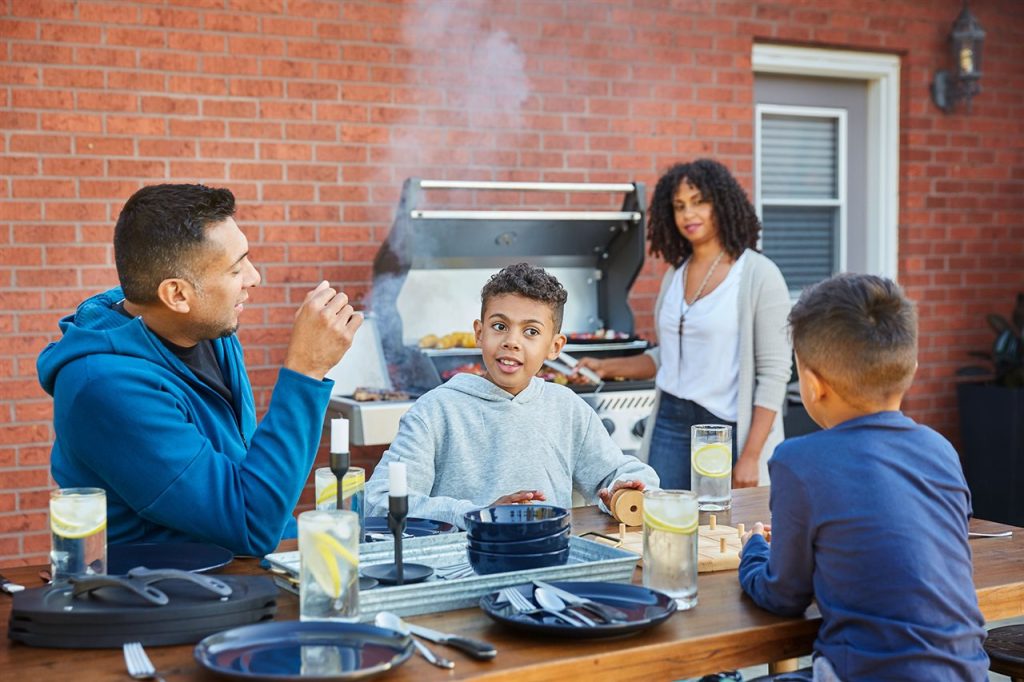 (Brandpoint) – Summer is approaching. That means it's time to take your grill out of storage and prepare for backyard barbecue season. If you're thinking about replacing your old grill, consider a more sustainable approach and buy an electric grill.
More people have become aware of how their individual choices impact the environment. They are willing to make lifestyle changes, including their shopping habits. According to consumer data by Forrester, post-pandemic consumers are more aware of sustainability when purchasing products.
Many companies have pivoted and are offering more sustainable products, including those in the grill market to keep up with consumer trends. A study from The Insight Partners predicts that the multibillion-dollar electric grilling market is expected to grow more than 67% over the next five years.
"We're a progressive company," said Stephen Schroeter, co-CEO of Napoleon, a leading manufacturer of outdoor grills. "We want to lead change that will contribute to a better future for our world, and that starts with making energy-efficient, eco-friendly products."
The intersection of sustainability and grilling
When you think of an outdoor barbecue, you may not immediately think about sustainability, but how you cook your food does impact the environment. Compared to some other grilling methods, such as burning wood pellets, electric grills release 99% less carbon monoxide and 91% less carbon dioxide. Producing and burning wood pellets is not only bad for the environment but also harmful to you and others. On the other hand, electric grills are a safe, sustainable choice for backyard chefs.
Other benefits of using an electric grill include:
quick and efficient heating, leading to low cooking times
easy temperature control
easy to use and clean
less maintenance
safer cooking with no gas leaks or fumes
and more cost-effective
By investing in an electric grill, you're going green and simplifying your grilling experience.
Not your dad's electric grill
While it's true that electric grills mainly were limited to indoor use and travel-sized models, full-size models have been widely unattainable.
Napoleon has launched the Rogue EQ™ Connected Electric Grill Series, the first line of full-size connected outdoor electric grills. These grills come equipped with Internet of Things (IoT) controls. This allows you to manage every aspect of the grill with your smartphone.
The two-burner Napoleon Rogue EQ 365 is designed to heat as quickly as most similar-sized gas grills and reach a maximum temperature that meets or exceeds traditional gas grills. It is also versatile, featuring three different ways to cook:
grill mode for traditional grilling and searing
oven mode for roasting
and smoker mode to infuse smoky flavor
"Our electric grill series demonstrates our commitment to continued industry-leading technology," said Chris Schroeter, Co-CEO of Napoleon. "As consumers evolve their mindset around sustainability, our goal is to make it easy for people to make more sustainable choices in their everyday living."
The Napoleon Rogue EQ™ Connected Electric Grill will be available in the Fall of 2022 at participating dealers. For more information visit:
Canada napoleon.com/en/ca/barbecues/rogue-electric-bbq-series
U.S. napoleon.com/en/us/grills/rogue-electric-grills-series
---
Editor disclaimer: The preceding post is a sponsored post. We were not paid to publish the content in question. However, this post does contains affiliate links in the form of banner advertising. Any added links on this website not in the original content are affiliate links. Jake Leonard and Heartland Newsfeed, as a participant in the Amazon Associates Program, earn a small commission from sales of certain items at no additional cost to you.