INDIANAPOLIS — The Great Midwest Athletic Conference Presidents' Council has postponed the fall championship segments in football, men's soccer, women's soccer and volleyball, as decided on Monday morning. The conference schedule and championships in each of these high contact risk sports, as defined by the NCAA Resocialization of Collegiate Sport guidelines, will be moved to the spring season.
Cross country, golf and tennis will resume activities
The Great Midwest is maintaining the cross country championship segment in the fall as originally scheduled. Additionally, engagement in all sports, including golf and tennis competition, will be permitted in the fall by institutions. Moreover, this is because these sports are able to meet NCAA, national, and local health and safety guidelines.
GMAC and its membership
GMAC is a NCAA Division II conference with member institutions located in Kentucky, Michigan, Ohio, Tennessee and West Virginia. The conference, established in 2011, consists of 13 private, non-profit member institutions and sponsors 23 conference championship sport offerings.
Current member institutions include Alderson Broaddus University, Cedarville University, University of Findlay, Hillsdale College, Kentucky Wesleyan College, Lake Erie College, Malone University, Ohio Dominican University, Ohio Valley University, Tiffin University, Trevecca Nazarene University, Ursuline College and Walsh University.
GMAC working on preparations for resumed action in spring 2021
Great Midwest has identified a path that best supports a meaningful season for the student-athletes in all sports. Despite their readiness and eagerness to start intercollegiate action in the fall, GMAC has made the decision to abide by recent mandates by the NCAA Board of Governors. The Presidents' Council has the determination to continue to work on behalf of the student-athletes and provide these opportunities.
Member institutions will continue to evaluate local and national regulations. Each institution will calculate the accessibility of tests and the capability of their respective programs to meet NCAA mandates. This will allow for the engagement of student-athletes in practice and competition throughout the academic year.
The Great Midwest membership and institutional leadership is working to provide safe and rewarding opportunities for all student-athletes. Schedule and date updates for the spring should be provided as soon as they're available.
---
For more news, sports and entertainment, follow Gabriel Schray and the Midwest Sports Network on Twitter @MWSNsports or like the MWSN page on Facebook. You can also find Schray on Twitter @SchrayGuy.
You can also follow Heartland Newsfeed on Twitter @HLNF_Bulletin. Additionally, you can follow Heartland Newsfeed on Facebook and Reddit among other platforms.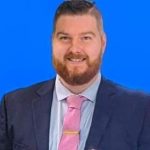 Gabriel Schray is an editor and contributing writer for Heartland Newsfeed and the editor-in-chief of Midwest Sports Network. He is one of the top up-and-coming sports play-by-play broadcasters in the United States. He is currently the voice of Adrian College Athletics, where he calls football and hockey. You can hear Schray on ACSN, ACTV, WVAC, BCSN 1, BCSN 2, BCSN Now, JTV Jackson and more. Professional portfolio: GabrielSchray.com